Apr 17, 2014 10:12 PM EDT
The NBA Playoffs begin on Saturday and DraftStreet is having a 2-Day first round Fantasy Contest with $100,000 in guaranteed prizes to celebrate.

Simply select a line-up of 3 Forwards, 3 Guards, 1 Utility and 1 Center from the games played on Saturday and Sunday. You have a $100,000 salary cap to make your selections and your roster must be submitted by 12:30 PM EST on Saturday.

If your fantasy team scores the most points, you win $20,000 and the top 300 scores share $100,000 guaranteed.

This is an example of completed roster for the $100,000 Guaranteed NBA Contest: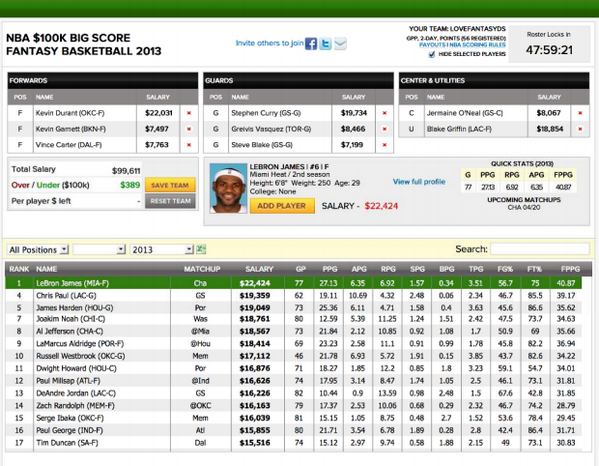 How to Enter the NBA Playoffs $100,000 Fantasy Contest:
1. Sign up at Draftstreet.com
2. Make a minimum deposit of $55

3. Select your NBA lineup while staying under the $100,000 Salary cap.

Add excitement to the NBA Playoffs this weekend by entering the $100,000 Guaranteed NBA Playoff Big Score.