Mar 04, 2014 5:01 PM EST
One-Day leagues are the most exciting way to play NBA fantasy basketball. Any night you want to add excitement to the NBA schedule, you can pick a fantasy team and win huge cash prizes. If you have $22, draft a One-Day Fantasy Basketball team at DraftStreet.com this Wednesday. You could win a share of $50,000 with a massive 1st Place Prize of $10,000.

300 players are going to win cash on Wednesday and you can be one of them. Simply pick a roster that includes 3 Forwards, 3 Guards, a Center and a Utility and stay under the $100,000 SalaryCap. Find out if you win after the end of the Hawks / Blazers game. On February 12th, donaldwells won $10,000 in one day playing NBA Fantasy. Daily NBA fantasy tournaments can be won by anyone.

Here is donaldwells $10,000 winning roster: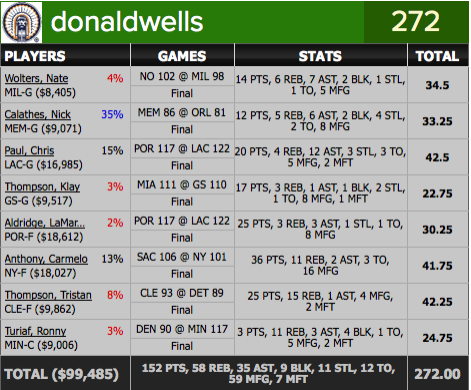 How to Enter $50,000 NBA BIG SCORE Fantasy Contest

1. Sign Up at DraftStreet.com.
2. Enter the $50,000 BIG SCORE League for $22

3. Save Your NBA team by 7pm Wednesday, March 5th.

Finish in the top-300 and you are going to double your money. 1st Place: $10,000!

If this is your first time depositing at DraftStreet, you will receive a 100% deposit bonus up to $200 Free.

Wednesday March 5th NBA Scheduled Games

Huston Rockets vs Orlando Magic , 7 PM ET

Utah Jazz vs Washington Wizards, 7 PM ET

Golden State Warriors vs Boston Celtics, 7:30 PM ET

Memphis Grizzlies vs Brooklyn Nets, 7:30 PM ET

Chicago Bulls vs Detroit Pistons, 7:30 PM ET

Sacramento Kings vs Milwaukee Bucks, 8 PM ET

New York Kicks vs Minnesota Timberwolves, 8 PM ET

Dallas Mavericks vs Denver Nuggets, 8 PM ET

Atlanta Hawks vs Portland Trailblazers, 10:30 PM ET

Once you have selected your roster kick back and enjoy the NBA lineup. Follow your players scores live on DraftStreet. When the whistle blows at the end of the Hawks vs Trailblazers game you will know if you won $10,000 or a portion of the $50,000 guaranteed prize pool.

Since 2010, over $80,000,000 has been won playing fantasy sports @ Draftstreet.com including $1 Million during the Fantasy Football Championship on December 15th. DraftStreet is legal in the US and Canada. Don't miss out on your chance to turn $22 into $10,000 this Wednesday playing NBA Fantasy.