Dec 03, 2013 8:34 PM EST
There are eight NBA games on Wednesday night and what better way to add excitement than entering the $55 Daily Fantasy Basketball Championship Qualifying Event at DraftStreet. Win the Qualifier on Wednesday night and you draft for the $100,000 1st Place Prize March 11th, 2014.

It is simple to play: Pick three guards, three forwards, one center and one Utility Player for Wednesday's games while staying under the $100,000 salary cap. Player salaries are determined by their projected fantasy points.

Here is the winning Roster from November 29th, 2013.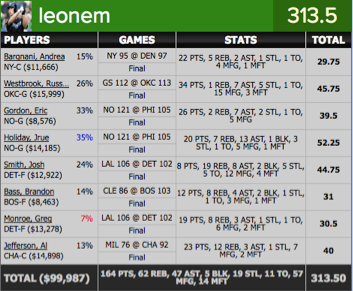 **Exclusive: If you sign up at DraftStreet.com today you will get free entry to a $500 NBA Fantasy Draft where you can win one of 40 NBA Vouchers for free entry to NBA Draft Leagues. If you deposit to play in the Championship event DraftStreet will double your deposit up to $200. Last week over $600,000 was won playing NBA Fantasy on DraftStreet.

Here are RealGM's Fantasy suggestions for Wednesday Night's Games:

Chris Paul – LA Clippers G Salary: $19,910 @ ATL Hawks Averaging 41.13 Fantasy Points Per Game

Ty Lawson – DEN Nuggets F Salary: $15,530 @ CLE Cavaliers Averaging 32.66 Fantasy Points Per Game

Paul George – IND Pacers F Salary: $18,441 @ UTA Jazz Averaging 34.33 Fantasy Points Per Game

Ryan Anderson – NO Pelicans F Salary: $14,305 vs DAL Mavericks Averaging 26.69 Fantasy Points Per Game

Andre Drummond – DET Pistons G Salary: $16,741 @ MIL Timberwolves Averaging 31.49 Fantasy Points Per Game

NBA Top Performers from games November 29th.