Oct 24, 2014 2:13 PM EDT
DraftKings is offering a great opportunity for RealGM readers to celebrate the start of the NBA season by winning a share of $30,000 on Tuesday night. Simply draft your own fantasy basketball team to help start the season off right.
Unlike regular fantasy basketball leagues, DraftKings allows you to pick your own team each and every night of the NBA season. Missed out on LeBron James in your snake draft? Not a problem. Worried about Kevin Durant's foot problems? Wait to draft him until he is healthy. Want to watch the games but don't have anyone playing? Then draft a new team every night.
To win, all you have to do is pick the eight NBA players you think will score the most fantasy points during the NBA games on a given night. Draft 1 PG, 1 SG, 1 SF, 1 PF, 1 C, 1 G, 1 F and 1 Utility player while staying under the $50,000 Salary Cap. A sample lineup for Tuesday night is: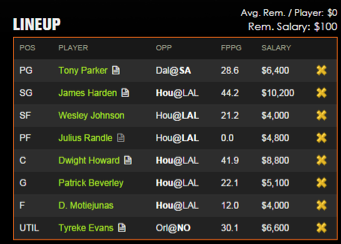 Assembling a winning team while staying under the salary cap allows RealGM readers to take advantage of their deep NBA knowledge. For example, the defensively limited backcourt of the Lakers could allow for a big opening night for James Harden and his teammates. If you make the right decisions you can walk away with $5,000 when the games end on Tuesday night.
As part of our partnership with DraftKings, all RealGM readers get a FREE entry into the league with their first deposit. Readers who have already deposited can submit an entry for only $2.
Also, if this is your first deposit at Draftkings.com you automatically get a 100% deposit bonus up to $600 and FREE entry into the league.
Daily fantasy basketball is the easiest way to add excitement to the start of the NBA season for every RealGM reader.
Here is how to enter the $30,000 Layup Contest:
1. Draft Your 8 Man NBA Roster Here
2. Pay your $2 entry fee or receive a FREE entry with your first deposit
3. Finish in the top 4,000 fantasy scores and get paid Tuesday night