It should have been the most American of stories. Kevin Durant exercised his free agent rights on Independence Day to agree to sign with the Golden State Warriors, becoming teammates with players he bonded with over Jesus all the way back in 2010 as members of Team USA no less. Those Team USA teammates were Stephen Curry and Andre Iguodala, who became workout partners with Durant and they've remained friends ever since. Now Durant will go to Rio with Draymond Green and Klay Thompson in search for another gold medal with the United States.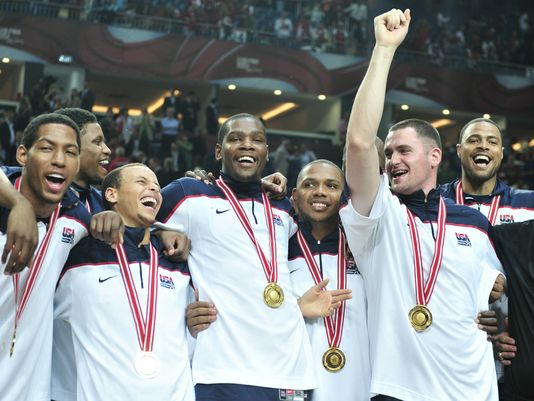 Before the Warriors even take the floor on their first day of training camp this September, Durant will already know what it's like to play with his four most important new teammates. Durant has long admired the way the Warriors play on the court and he had enough familiarity with the four of them as people that he could trust their capacity to bond as teammates.
A 73-win team magically transformed Harrison Barnes into a top-5 player in the entire NBA, who also happens to fit perfectly, while weakening their biggest Western Conference rival in the process. What could be more American than the self-determination of ruthlessly maximizing your chances to win a title, and also have a chance to make more money off the court in the world's fifth largest economy in the world if it were its own country? It is especially more American if you have a nearly zero chance to lose, just like spending more on the military than the next eight nations combined.
If Durant, LeBron James, Chris Paul, Steve Nash, Karl Malone, Charles Barkley and countless others each left their teams for an improved opportunity to win a championship with better teammates, it wasn't the supposedly nefarious AAU culture that's to blame, they learned it by watching the USA Basketball.
Team USA settled for the bronze medal in the Seoul Olympics in 1988 and that just didn't sit well with anyone. A six-point loss in the semifinals to a Soviet Union that was anchored by Arvydas Sabonis, Sarunas Marciulionis and Rimas Kurtinaitis in their prime overshadowed Team USA's seven wins in the tournament by an average of 36 points.
After losing for just the second time in 88 games with college players in the history of the Olympics, the other being in Munich against the Soviets in the most controversial basketball game ever played, head coach John Thompson immediately said relying on collegians like David Robinson, Dan Majerle, Danny Manning and Mitch Richmond wasn't going to cut it anymore.
''Personally, I would like more of a chance to compete,'' Thompson said. ''If there was a way for us to play in the European championships, for instance. But our system doesn't permit us to get involved in competition. I'm also an advocate of professionals playing in the Olympics.''
The executive director of the United States Amateur Basketball Association Bill Wall immediately considered the unintended consequences of sending a Dream Team of NBA players four years later to Barcelona.
''Philosophically, I have real problems with that,'' Wall said. ''Do you want to watch the best players beat everybody else?"
The United States won gold in 1992, 1996 and 2000 and were fully unbeatable. The absurdity of how much better they were than every other country can be best understood by watching the Vince Carter dunk on Frederic Weis on a loop.
The United States could have continued to win gold in more Olympics than not with a team of college players, or even an under-23 roster to accommodate the NBA's one-and-done and prep-to-pro evolution. Superteams without a chance to lose were what the United States wanted and the NBA benefitted from the business opportunity of sending the world's most famous and exceptional players on a barnstorming tour of the planet to help with their own international expansion. It has undoubtedly worked with how the game has grown overseas and is now firmly entrenched as the second most relevant sport in the world beyond soccer. Other countries were fine being embarrassed by the United States because they now had a story of a lifetime about how they were dunked on by Michael Jordan or Barkley.
A weird and somewhat depleted roster with a head coach coming off an NBA title that wasn't entirely committed, and a closing of the competition gap over an entire generation of international players since 1992 undid the Bronze Team of 2004. You knew Team USA was in trouble when they lost by 19 to Puerto Rico in their first group stage game. They lost twice more before winning Bronze.
The legacy of that 2004 team is how BFF's for life LeBron, Dwyane Wade and Carmelo Anthony further forged the bond that began as members of the same draft class the previous June, as well as the reform that came in 2005 when Jerry Colangelo was hired to run USA Basketball. Colangelo required a three-year commitment in order to participate, which meant the best players couldn't dip in and out of the program to merely show up for the Olympics, win a gold medal, sell some shoes and go home. The best American-born players in the NBA were forced to spend quality and quantity time together every summer; together they figured out how to outmaneuver a rigged system created by the NBA's owners to create parity in a game where one or two players often make a bigger impact than the rest of their teammates combined.
Counting rings had become a fetishized part of sports that entirely made or broke otherwise Hall of Fame careers. Great players are unregarded because they didn't have great teammates and never won a title in the zero sum game of one champion per season. With a 30-franchise NBA, the current generation of players couldn't just nobly let superteams form organically the way they did for the Bill Russell or Larry Bird Celtics and the Magic Johnson/Kareem Abdul-Jabbar Lakers.
But the Thunder had a run of bad seasons and good drafts that led to a Big 4 of Durant, Russell Westbrook, James Harden and Serge Ibaka that was every bit as great as the Warriors' new Big 4; except they didn't have the right personalities, complementary styles and a willing ownership group. Durant, Westbrook and Harden came as a unit to Team USA in 2012 and planned on returning to Oklahoma City that fall to get back to The Finals until it was punctuated by the Harden trade.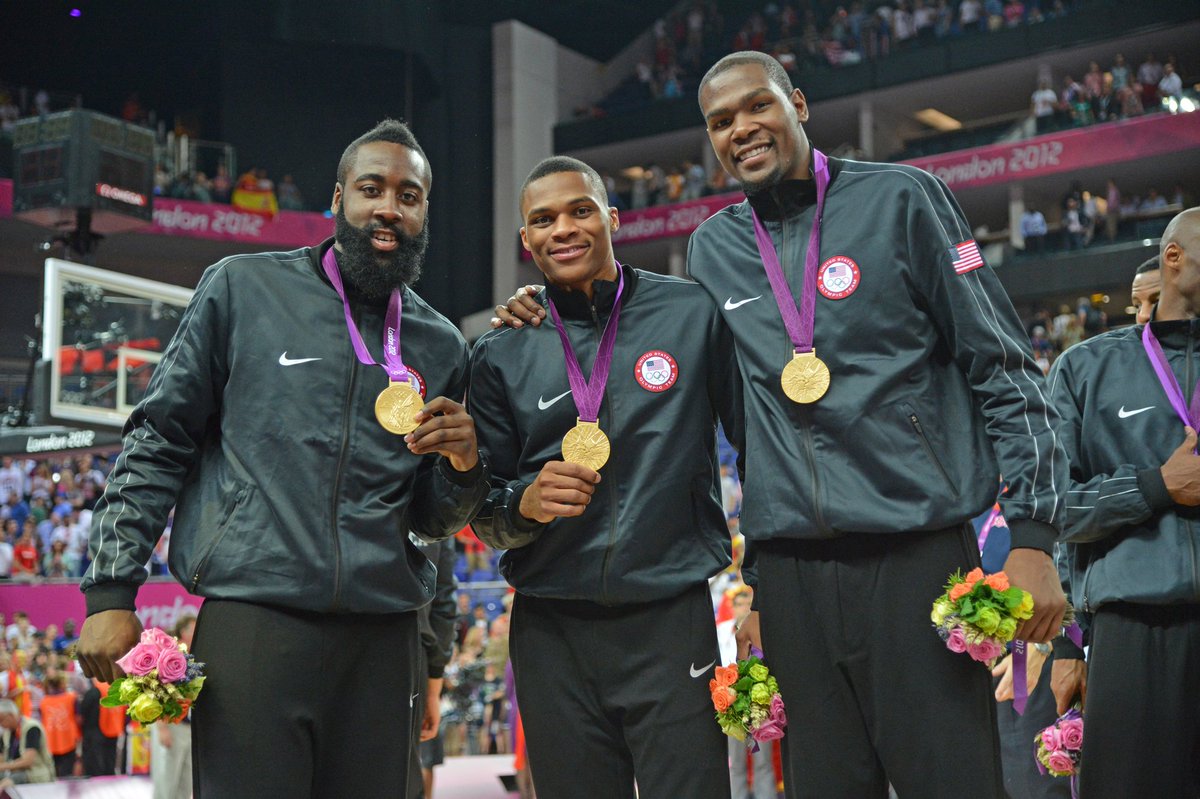 Without the development of friendships as teammates and the on-court test drive of playing with each other as part of Team USA, the 2010 Heat and 2016 Warriors probably never happen.
The 2006 USA team added Chris Bosh, Chris Paul and Dwight Howard to LeBron, Wade and Carmelo. Those six players returned in 2008 for the Olympics in Beijing and discussions between LeBron, Wade and Bosh about playing together in 2010 when that trio would become free agents were aspirationally discussed.
Anthony didn't have the prescience to get an opt out for 2010 like his draft peers and had to wait for 2011 to become a free agent. Anthony impatiently wanted both New York and an extension before the probable lockout, so the trade to the Knicks effectively destroyed the prophecy of Paul's toast at Anthony's wedding. Everyone who appreciates Anthony's exceptional yet imperfect game yearns for the brilliance of Team USA Carmelo and wonders what his career would have looked like with better teammates along the way.
Paul was traded to the Lakers to join Olympic teammate Kobe Bryant, but it was vetoed by the NBA as they then owned New Orleans and he instead was traded to the Clippers to form a superteam of their own, though with no prior Olympics ties.
Deron Williams was also a member of the 2008 Olympics and he was always supposed to be joined in Brooklyn by Howard, but the indecisiveness of the latter opting in with the Magic for 12-13 eliminated that possibility.
Durant felt the reality of his basketball mortality at the age of 27 this offseason after undergoing three separate foot surgeries a season ago, even referencing the short amount of time he has left as a basketball player during his introductory press conference. LeBron was 26 when he left a thoroughly replacement level Cavaliers' rosters in 2010 to join Wade and Bosh with the Heat. LeBron loved the relationship he already had formed with those two, which evolved in becoming NBA teammates and still exists to this day even with all three now on different teams.
Durant was similarly astonished by the relationship Curry, Thompson, Green and Iguodala already had with each other during their meeting.
"To see them together, they all walked in and it looked like they were holding hands," Durant said. "It was just a family. I could tell they enjoyed being around each other."
Durant wanted to be part of that chemistry as much off the court as on it.
"When I met these guys, I felt as comfortable as I've ever felt," said Durant. "It was organic. It was authentic. It was real."
Nobody has left a team as good as the Thunder the way Durant has this summer. The way the Thunder overwhelmed the Warriors in Games 3 and 4 of the Western Conference Finals with their length and athleticism was extraordinary. But Durant was tired of working so hard to generate quality shots on offense within Oklahoma City's system and with a teammate he may have loved off the court in Westbrook but was so frequently responsible for zero-pass or one-pass possessions, sometimes for better though often for worse. Similarly, LeBron was tired of a predictable offense that simplistically asked him to be great on every possession while everyone else stood around spotting up for an open kickout after he was triple-teamed in the lane.
Durant and LeBron experienced the ease and joy of loading up with great teammates and playing unselfishly within an offense of ball movement with Team USA and could never go back to accepting how it was before even if it required the nuance of selflessness. At that point in the career of a great player, there is a restlessness to finally win a title and also for a newness of opportunity. Kevin Garnett was 31 when he finally left Minnesota and the advice he gave LeBron in 2010 was "loyalty is something that hurts you at times because you can't get youth back."
I admire Durant and LeBron for not being docile loyalists to a specific franchise especially those that either were unable to acquire quality teammates (Cavs: 2003-2010), or chose to be financially cheap (Miami in 2013 with amnestying Mike Miller, Oklahoma City always) despite having future Hall of Famers on artificially undervalued max contracts. If Durant and LeBron chose to create situations where they can play for teams who are unapologetically limitless, it all began with Team USA.