Championship or bust has been the motto this past decade in the NBA. As some franchises have loaded up on stars in an attempt to win championships, others have torn their rosters down to the studs in an attempt to land the next big thing. This season has been strange because more clubs than usual find themselves firmly in NBA limbo -- neither bad enough to land a top pick nor good enough to be more than playoff fodder.
Nine teams in particular find themselves in this no-man's land. We'll take a look at each of these club's situations and examine how potential paths forward will affect their organization, the trade deadline and the league itself going forward.
Next Up: Portland Trail Blazers
The Path to the Middle of the Pack:
Portland was the darling of the NBA just a season ago. Fresh off the departure of key cogs in LaMarcus Aldridge and Nicolas Batum, the Blazers were in a tanking state of mind. But to the surprise of most, Damian Lillard and CJ McCollum led a pesky, young Portland group to a 44-38 record and a first round playoff win over the L.A. Clippers.
So instead of a summer spent stocking the cupboard with promising youngsters following a trip to lottery land, Portland's front office operated like a franchise that had established itself as a contender. They brought back restricted free agents Meyers Leonard and Allen Crabbe on deals worth over $115 million. Then Portland lured free agents Evan Turner and Festus Ezeli to the Pacific Northwest with deals combining for around another $80 million. The biggest transaction of the summer was securing McCollum's services for an additional five seasons with a near-max extension. These moved signaled that the Blazers were about to take the next step.
Unfortunately, it looks as though the team has tripped over itself instead. Portland is 18-25 entering Wednesday's game against Charlotte thanks in part to a miserable end to December where the team lost seven of the last eight games. The Blazers are still sitting just a half game outside the 8-seed in the West, but only because it's that conference's turn to have their final playoff spot be a slapfight between deeply-flawed teams.
It's not hard to take a macro view of the situation and plainly see Portland's problem: they can't stop opponents from scoring lots of points. The Blazers currently own the NBA's third-worst defense, per our RealGM rankings. For a team that established itself as a top-10 offense, improving from the 20th-ranked defense unit to even just inside the top half of the league likely would have catapulted Portland toward the top of the West.
There are a host of factors as to why the Blazers have sunk to the depths of the NBA defensively. Number one on that list is the simple fact that their best defender, Al-Farouq Aminu, has missed 18 of the team's 43 total games. When Aminu has been out or off the floor, Portland gets shredded by opposing offenses, posting a defensive rating of 111.6. When their lanky forward plays, that number drops to 104.8, which is totally respectable!
Even more promising for Portland is that when Aminu and Moe Harkless, the player that essentially sparked their playoff run last season, join together, their defense is, like, really good. In the 418 minutes those two have shared the floor, the Blazers are posting a defensive rating of 101.6, per NBA.com data. And that isn't one of those robbing Peter to pay Paul scenarios either as Portland as a whole is a +6.9 per 48 minutes during when Harkless and Aminu join up. Those numbers are also pretty consistent with the results from the 572 minutes those played together last season -- helping avoid the notion this year's results are some small sample size fluke.
It's easy to see why Portland is so much better defensively with that forward tandem on the floor. Harkless and Aminu make the Blazers more mobile in the frontcourt, helping them switch assignments both on and off the ball without leaving themselves exposed. Given the dearth of competent NBA defenders on the roster, Aminu's absence stood out far more than it would on most rosters (the ripple effects we'll tackle a little later). Having him back is a good thing and should help Portland right the ship defensively.
And the optimism Portland fans hoping this team isn't a lost cause defensively doesn't stop there! Over the years, head coach Terry Stotts has tweaked his scheme to be as an analytics-friendly as possible. The most noticeable manifestation of this as far as on-court scheming can be seen in how the Blazers big men defend pick-and-rolls, mostly against non-shooters.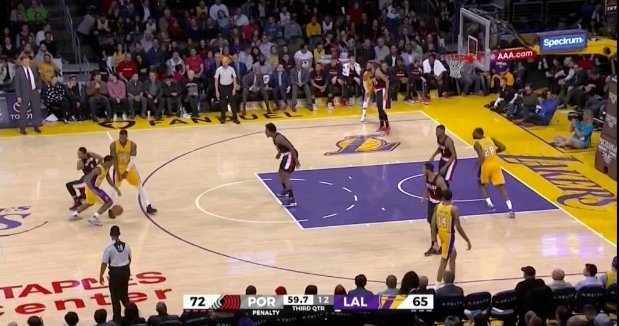 In order to limit the succulent shots NBA offenses crave, Stotts instructs his bigs to drop to the paint and leave acres of space between themselves and the ballhandler on certain pick-and-rolls. It's essentially a blatant dare for opposing pick-and-roll operators to launch a mid-range two -- the ideal non-turnover result of a possession for a defense. And it's mostly working, Portland is ranks in the top half of the league when it comes to fewest shots allowed at the rim and corner 3s while conceding the fourth most shots from mid-range and fifth most shots in the paint outside of the restricted area, per NBA.com data.
It's obviously kind of shocking the Blazers are so terrible defensively despite these (somewhat) ideal shot results. So why should Portland fans have hope? Because part of problem is just bad luck. On those non-restricted area paint shots, Blazers opponents are shooting a 47.2 percent on 570 attempts -- the second highest percentage in the league.
But looking back at past years shows us that right now, Portland is on the wrong side of variance. In this decade (2010 on), no team has allowed opponents to convert over 44.0 percent of those shots, according to the NBA database. That dubious honor belongs to the 2010-11 Raptors. Given that baseline, it stands to reason that as this season goes on, Portland's opponents will start missing a few more of those mid-paint shots and the defense will improve.
The other reason why Portland struggles despite a relatively ideal shot dispersion is that they foul. Like a lot. According to NBAminer's database, Portland ranks third in the league in both fouls committed and shooting fouls committed. If you want to stop opponents from scoring, a never-ending parade to the free throw line is not the way to do it.
The primary culprits for this are the Blazers big men not named "Plumlee." Ed Davis (5th), Leonard (17th) and Noah Vonleh (40th) all rank in the top 40 in fouls committed per 100 possessions, according to Basketball-Reference.com. Those three have run around hacking the opponents for a combined 1,679 minutes this season -- not an insignificant amount.
Before laying the blame at the feet of those three, you have to take a look at what Stotts asks them to do on the court. And at the end of the journey down that rabbit hole, you get to a Portland team ranked dead last in points per possession against pick-and-rolls (including passes out to shooters), per Synergy Sports data. These two thing are, unsurprisingly, connected.
Watch a Blazers game and it's hard to find too many hard and fast rules for their pick-and-roll defense. Most pick-and-roll defensive schemes are dictated in one of three ways 1) personnel involved, 2) location on the floor and/or 3) a consistent, overarching philosophy (think Thibodeau's teams always pushing ballhandlers toward a sideline). Under Stotts, Portland players have basically an NFL playbook's worth of calls to remember.
Against non-shooters, the on-ball defender goes under and the big sags back, sticking tight the role man. If Portland is playing an elite shooter, like say Steph Curry, their bigs play "up-to-touch" or level with the screen. If they're facing a pick-and-pop 4, Stotts will typically have his bigs show -- something that not-so-graceful Davis isn't particularly suited for (thus leading to blocking calls). In the same spot on the side of the court, you can find examples of Portland's bigs both allowing the ball to be funnelled to the middle and forcing ballhandlers to the sideline (Ice, Blue, etc). Confused yet? I think the Blazers players are too.
With so many calls, there is a little bit of discombobulation in Portland's execution. You can see that in the times when it looks like the on-ball defender signals one of the Blazer bigs where he's sending his man coming off the pick-- something that's not all that rare, but just against the standard practice of the player guarding the screener dictating the coverage. Off-the-ball, there's confusion too as help rotations can either be a Keystone Cops routine or non-existent, particularly when the Blazers are using a "stay high" or "X-out" coverage that calls for big corralling the ballhandler to recover back to someone other than the screener (typically another frontcourt player).
Now even elite NBA defenses will have plenty of examples of players failing to execute the designed scheme (important disclaimer: playing defense at that level is really hard). Portland just seems to struggle with consistency more than most -- and a root cause might be having too many coverages in their playbook in an effort to counteract everything an opposing offense throws at them. And when teams struggle to execute, big men often get left hanging out to try, something that would exacerbate Davis, Leonard and Vonleh's propensity to foul.
The other part of this fouling issue is that the Blazers lack perimeter defenders that can put much pressure on opposing ballhandlers. Neither McCollum or Lillard are the type of on-ball defenders that can physically disrupt players up to and during pick-and-rolls. Crabbe and Turner don't really qualify in that regard either. In the subtle arts of defending ballscreens, some combination of length, strength, agility and/or effort is needed to help big men defend pick-and-rolls. Getting into a ballhandler before he takes off on the screen can both alter his route and stop him from generating a full head of steam as he attacks Portland's bigs.
Poor containment on plays like this…..
…..or an inability to get back in front of a ballhandler on plays like this….
….can lead to too many situations where Portland's bigs are put into situations where they can foul and/or concede a high-quality look -- even if it's technically classified as a mid-range shot.
The question for Portland is whether these things can be cleaned up with existing personnel or if it will require a full-fledged makeover that perhaps involves breaking up their current core.
Reload, Rebuild or Stand Pat?
When it comes to the topic of personnel, it's hard to talk about the Blazers without tackling the addition of Turner. I wrote earlier this season that Turner's game has not meshed with his new team, causing serious damage to Blazers ability to outscore opponents. Unfortunately for Portland, nothing has changed in that regard. Portland experiences 14.1 points per 48 minutes swing between when Turner plays (-9.9 per 48) and when Turner sits (+4.2), per NBA.com. The team's offensive output, the only thing saving it these days, also continues to plummet whenever Turner sees the floor.
In short, the player Portland identified as the free agent to help them take the next step has ironically forced them to take one back instead. And given that Ezeli hasn't even played a single game (and now may be leaving the team), the Blazers free agent class from the summer of 2016 is looking like a total bust. And while Ezeli's deal for next season is non-guaranteed, getting away from Turner is going to be pretty difficult given this current plight of is not a new phenomenon.
In a way, the Blazers' next move as a team all ties into this Turner dilemma. Part of Portland's problem is that the team has been getting hammered when two players are on the court: Turner and Vonleh (and in the 236 minutes those two have actually played together, it's a total bloodbath). The natural solution popping into your head is "well don't play them!" But that's where you get into the crux of the problem.
When it comes to Turner, it's not like the players have a host of better options waiting in the wings. Shabazz Napier, whose size poses problems for combining with Lillard and McCollum at the same time, has failed to find his footing in the NBA with what is now his third team. Pat Connaughton and Jake Lyman, two second round picks, have struggled in limited minutes. Tim Quartermann, an undrafted rookie, is a complete unknown. While the Blazers have struggled with Turner in, it's hard to make an argument that any of these players are no-brainer alternatives for his minutes.
Then there's optics and locker room dynamics to consider. Turner is a former No. 2 overall pick who just signed a massive deal. He's also now in his 7th NBA season and posting at his career norms. For the fans and NBA lovers looking in from the outside, benching him is easy. For those inside the locker room, there are human factors that benching an "established" (because yes, he has serious flaws) brings into play -- ones that get trickier when clear alternatives aren't present.
There's a similar situation is happening with Vonleh -- though Stotts seems to be slowly limiting his minutes to single digits this month. Especially when Aminu was out, it was hard to field a big man rotation without turning to the struggling youngster. Combine that with Leonard's slow return to form from off-season labrum surgery and Davis' limitations/foul issues and it's not hard to see why Stotts continues to dole out minutes to Vonleh (though Stotts has been going to more single big lineups lately).
The question Portland execs must answer is whether they can fill these rotation dead spots now that their financial flexibility is shot. The team's payroll will be at $129 million in guaranteed money at the start of next season, per Basketball Insiders. That figure doesn't even include the fact that Plumlee, who is a restricted free agent this summer, is set for a massive pay raise.
There aren't many avenues to fill out a contender-worthy rotation around the Lillard-McCollum core given those salary restraints. Portland is essentially hoping to breath life into an aging vet, see some internal development from their young prospects or hit a homerun with an impact rookie in next year's draft -- where they will have two first round picks (their own and Cleveland's).
But as the deadline approaches, it's important to note that this Portland's success last year was not lightening in a bottle. The 5-man lineup of Lillard-McCollum-Aminu-Harkless-Plumlee is the 9th best quintet in the NBA (min: 200 minutes) with a scoring margin of +8.9 per 48 (and that group was even better last year). Swap Crabbe in with Aminu and Portland has a lineup that's +13.0 per 48 in 107 total minutes.
There are some dominant lineups in the Blazer's rotation, it's just that the team is getting undone by a host of factors -- most notably being the reliance on players like Turner and Vonleh due to a lack of better options. But Stotts' constant tinkering also plays a factor, as does plain old bad luck like opponents hitting shots at an unsustainable rate or Aminu's injury.
The bottom line is this Portland team wasn't some odds-defying, feel-good story coming back down to earth. The ingredients for a contender are mostly there, but unfortunately a bad summer spending spree has spoiled the batch. But with some creative maneuvering going forward, there's no reason the Blazers can't start cooking again.