For the vast majority of players in the NBA, finding situations where teams can accentuate their strengths while subsidizing their weaknesses is the only way to unlock their true potential. By choosing to take the Milwaukee Bucks max contract offer earlier today, free agent big man Greg Monroe did exactly that.
After five years in the league, Monroe has established himself as something of a new-age Al Jefferson. Like the post up professor in Charlotte, Monroe is a bit of a positional tweener, especially in today's faster, more mobile NBA. Too slow to consistently handle perimeter-based players at the 4 and too small and ground-bound to anchor a defense at the 5, Monroe is always going to be a player that gives something up no matter where you put him.
The Hornets, for one year at least, got around this problem by pushing Jefferson to five and letting him work his magic on the block on offense while hiding him in a conservative defensive scheme on the other end of the floor. The results spoke for themselves as Charlotte finished the 2013-14 season with the fifth best defensive rating in the league. Jefferson wasn't inherently better as a defender with the Hornets as much as his situation -- more mobile frontcourt partners and a role on defense that kept him in and around the paint -- made sure not put the veteran big man in positions to be exploited.
Monroe will now enter a similar situation in Milwaukee. Jason Kidd, with help from some bright assistants, has crafted a defensive scheme well suited to hide the pick-and-roll deficiencies of a rather immobile big like Monroe. As Grantland's Zach Lowe explained late last year, the Bucks' help defenders are far more active than most teams around the league, tasked with eradicating free rolls to the rim for opposing big men during pick-and-rolls. And with a team full of smart and/or long, athletic defenders -- like Jared Dudley and Giannis Antetokounmpo -- Milwaukee could afford to flood the paint with bodies and still take away high value shots on passes out because of how effective their personnel was at scrambling back out to the 3-point line.
Unlike other schemes, where help from the weakside is limited in order to close off the possibility of passes out leading to open shots from beyond the arc, the Bucks defense puts bigs like Monroe in less challenging spots. Instead of trying to contain both the opposing ballhandler and roll man in a dicey game of 1-on-2 -- something teams with bigs like Serge Ibaka, Tyson Chandler, etc are only suited to do -- Monroe can lock in on simply stopping the ball while trusting his weakside help to prevent any easy, direct pass to a big man making his way down the lane toward the basket. In a sense, it takes away a responsibility Monroe is ill-suited for (containing two players at once) and shifts it onto the Bucks mobile army of long-limbed help defenders who are far more equipped to handle it.
The other big concern with Monroe would be his ability to block shots, or lack thereof. But rim protection is another area that a hyperactive defense can overcome. And if you need further proof, the Bucks' defensive rating was a sterling 97.0 with Zaza Pachulia on the court last year, a player who is not exactly challenging Anthony Davis for shot-blocking supremacy in the league.
By mitigating Monroe's defensive shortcomings, Milwaukee will be able to capitalize on the value he brings to their offense. To avoid sounding overly simplistic, a big reason for the Bucks issues on offense was their lack of a "bucket getter", a player who can operate in a common action -- post up, isolation, pick-and-roll -- and, well, get a bucket against a set defense. It was a need that was obvious in their playoff series against Chicago this past spring.
Monroe isn't the second coming of Hakeem Olajuwon, but he did rank 17th in points per possession out of the 30 players with over 200 charted post ups (which are defined as ending in a basket, missed shot, foul or turnover), per Synergy data. It's not a sexy stat by any means, but for a Bucks team that ranked 26th in offensive efficiency last year, according to RealGM data, they can certainly use Monroe's presence on the block, particularly against more favorable matchups.
On top of that, Monroe's skill set fits meshes well with one of head coach Jason Kidd's preferred concepts -- "Corner" or "Push" action. "Corner" action typically revolves around a big with the ball at the elbow while two perimeter players screen for each other in the deep corner, triggering a series of reads. Opposite the big with the ball, another big man hangs out at the opposite elbow while a perimeter player occupies a spot on the opposite wing. Kidd has modified this with both Brooklyn and Milwaukee so the spacing on the weakside contains players on the opposite wing and opposite corner. It looks something like this: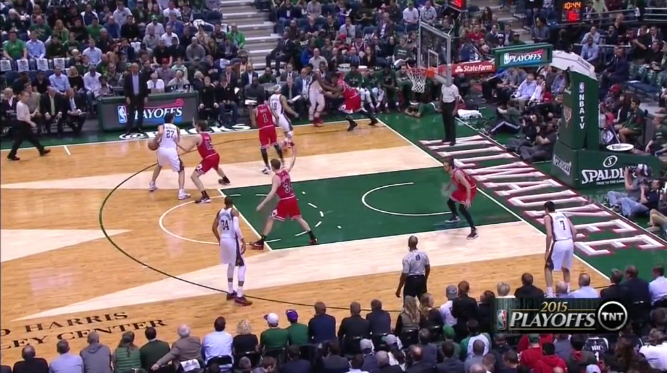 This past season, the Bucks relied on Pachulia to orchestrate their pet set. And while Pachulia is an underrated passer, he wasn't capable of putting pressure on a defense in any other way while operating at or around the elbow. Pachulia was a dreadful converting shots from 16-24 feet last year, connecting on just 26.9 percent of his 78 attempts, per NBA.com data. And despite that low percentage, Pachulia was probably even worse off whenever he attempted to drive the ball to the rim from that spot on the floor.
Monroe should be at least a slight upgrade in all three departments. While not a great shooter from that same range -- he converted 13-of-37 shots, good for 35.1 percent, he's got slightly more credibility and, at just 25-years-old, should only continue to improve. On top of that, Monroe is also far more of a threat to put the ball on the deck and take advantage of a defender too preoccupied with movement around him:
Not every team looking to acquire his services provided Monroe such a unique opportunity to hide his deficiencies while playing almost exclusively to his strengths. But the team Monroe committed to at the end of his free agency tour allows him to do just that. Look for both the Bucks and Monroe to reap the benefits in a big way come next fall.