The NBA's (totally awesome) second season is finally upon us. Now that the 16 postseason teams are officially set, we have a chance to further examine the craziness that sure to lie ahead. In our playoff preview series, we will take a look at some of the more intriguing questions surrounding these first round matchups.
Cleveland Cavaliers (1) vs Detroit Pistons (8)
1. How will the Cavs juggle their rotation?
Outside of LeBron James (and maybe Tristan Thompson), it's nearly impossible to predict which players will have a consistent role this series -- which seems odd for a team entering the playoffs at the best team in the East. Kevin Love's defensive limitations could be severely exposed by a team that starts two combo forwards and employs one of the league's most dynamic pick-and-roll attacks. Kyrie Irving is already under fire due to on/off data that paints a pretty underwhelming picture of his contributions in comparison to backup Matthew Dellavedova.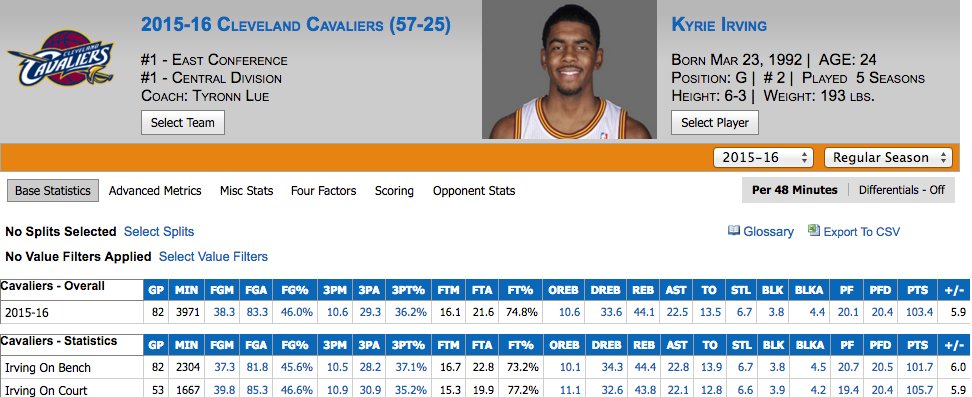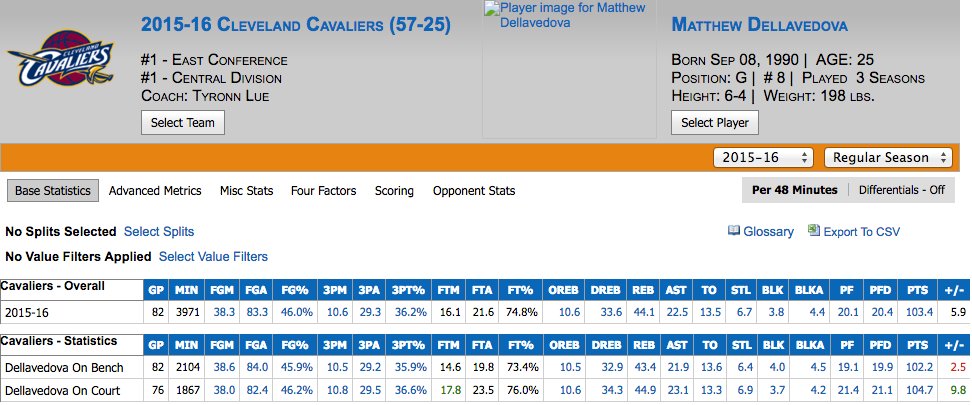 Then there's uncertain health status of Iman Shumpert, the efficacy of an aging Richard Jefferson and a frontcourt matchup game that could be the most intriguing back and forth in the entire series. Thompson should have no problem finding minutes, but if Andre Drummond's size gives him issues, Timofey Mozgov could get called into play. Channing Frye could also see his role fluctuate to certain extremes -- playing little of Love and Thompson prove to be effective or seeing lots of run should one of those two falter or head coach Tyronn Lue choose to use him as backup 5 whenever Pistons' reserve big man Aron Baynes sees action in an effort to really spread Detroit out.
It's an odd contrast given the underdog Pistons squad they face rolls out the same rotation (barring injuries, etc) on a nightly basis. If Lue fails to pull the right triggers with a lineup that has seemingly been in a constant state of flux, this series could get interesting fast.
2. Over or under against Reggie Jackson?
When it comes to pick-and-roll defense, an on-ball defender has only two choices when faced with avoiding a screening opponent -- sneak below the pick and greet the ballhandler on the other side or trail over the top. For years, the book on Jackson was to go under and dare him to shoot behind the screen or, at the very least, make him work to get a shot off in the paint. But after shooting a shade above league average (35.3 percent) from 3 on 4.2 attempts per game, that decision isn't nearly as cut-and-dried as it used to be.
In their February 22nd matchup, Cleveland primarily stuck to an "over" coverage with Irving (or whoever was guarding Jackson) trailing behind and letting the Detroit point guard make shots from the mid-range.
Jackson had 23 points on 9-of-17 in that matchup, with most of his points coming in pick-and-roll situations. That solid performance seems consistent with Synergy data that suggests going over on Jackson isn't the ideal play. For the season, the Pistons point guard as has a higher points per possession (PPP) against that coverage (1.049) than when on-ball defenders scoot under the screen (.922).
Now that doesn't take into account in two important factors. First, in regular season games schemes are far more vanilla than they will be in the playoffs. Most teams largely chase over the top of picks against players with the perceived ability to hurt them by shooting 3's behind the screen -- something that Jackson has earned with his improved accuracy this year. This could largely be a byproduct of the regular season's lack of prep time and Cleveland could start out the series with a different approach.
The other perhaps more interesting aspect is that the Cavs, in particular Dellavedova, made a concerted effort to get into Jackson's body as he came off the screen in an effort to "blow up" -- the term where a defender gets his body between the screener and ballhandler forcing a lateral path -- the pick-and-roll. Trying to do this with an under coverage doesn't work due to the passive, contain-centric nature of the approach and, well, physics (you can't blow up a screen you're sneaking under). So while Jackson's PPP versus an over is higher, it doesn't factor into the times when ball pressure forced him to take a bad angle coming off the screen or reject using it entirely.
On top of that, part of Dellavedova's effectiveness as a player is his ability to use his strength, body position and general peskiness to make getting to a screen a demanding task for opposing ballhandlers (It's also one of those unheralded contributions that factor into the plus/minus disparity between him and Irving). That means it falls into one of those classic dilemmas for the Cavs -- do they play to their personnel's strengths or their opponent's weakness? Pay attention to what the answer to that question is because Jackson having a big series is essential to the Pistons hopes of making this a close affair.
3. How often will Cleveland attack Tobias Harris? And what will that tell us about the value of Harris?
In that February 22nd contest between the two teams, one thing was crystal clear in the Cavs' gameplan: they had no respect for Harris' defensive chops. Whether it was letting Love post him up (to great success that game) or putting him into pick-and-rolls, Cleveland had no trepidation of going right at Harris in a variety of ways. There is no reason to expect this to change at the start of this series.
Yet before thinking Harris will be running around with a bullseye on his back, consider this: he will never be assigned directly to the Cavs bellcow, James. That means every possession to go after Harris, is when that will mean a player other than James -- unless Lue runs a steady of 3-4 pick-and-rolls looking for a switch -- has to do the heavy lifting. Because offenses needs some semblance of balance, Love & others (like Irving in pick-and-rolls) will get their shot at Harris, but it's an interesting balance for Lue to find.
What will be even more interesting is how this decision impacts the perception of Harris. Part of the reason for the divisive opinions on Harris' game can be attributed to his defensive shortcomings that the Cavs looked to exploit in that game two months ago. So far Harris' tenure in Detroit hasn't produced any glaring deficiencies as the Pistons are actually four points better defensively with Harris on the floor -- posting 104 rating when he's playing compared to 108 when the young forward sits, per NBA.com data.
Obviously those numbers have a lot of noise and the black magic of Stan Van Gundy probably plays a role in them as well, but it's certainly a promising indicator that Detroit can at the very least survive defensively with Harris on the floor. But playoff basketball shines a harsh, unyielding spotlight on any team or player's flaws. If the Cavs ruthlessly expose Harris, it won't be disastrous for his career, but it may begin to form the realization that he isn't a player that can contribute big minutes on a true contender. That's why seeing how Harris holds up in his first invite to the NBA's second season will be an interesting subplot to watch.