The Portland Trail Blazers entered their second-round series against the Steph Curry-less Golden State Warriors knowing they probably won't advance unless their own fireball-hurling point guard explodes on (at least) four separate occasions over the next couple weeks.
In Game 1, that most definitely did not happen. Damian Lillard only needs the slightest crevice to singlehandedly swing the tide in his team's favor. Normally, when squared off against just about any defense in the league, this is a gift; the primary reason Portland is in the postseason and not the lottery.
But in Sunday's series opener, the 25-year-old's aggressive play was a curse. Lillard finished with 30 points on 8-for-26 shooting, but 18 of those points came in the fourth quarter, long after the deficit was already insurmountable.
The NBA's fourth-best defense pitched a relatively conservative game plan Lillard's way—far less aggressive than the Clippers' trap-heavy scheme from the first round—with bigs like Andrew Bogut, Marreese Speights and Anderson Varejao dropping back in the pick-and-roll and inviting Lillard to "settle" for pull-up jumpers.
For the most part, Lillard refused to take the bait. He consistently drove into the paint, a commendable mentality that eventually resulted in 10 free-throw attempts. But it's not a winning strategy. Not when Draymond Green—arguably the best help defender in the league—lives in the lane. Fifteen of Lillard's shots came in the paint. Only four went in.
Despite Golden State's decision to clog the middle and leave Portland's outside shooters wide open, Lillard made four fewer passes than his regular season average, on seven more touches. Nobody should flip out over those specific numbers, but watch the film and it's clear Lillard was stubborn. He tried to break down an impenetrable fortress all by himself—something no player alive can successfully accomplish over a 48-minute span, let alone a seven-game series.
The Trail Blazers' only chance to make this series one worth watching is to move the ball when Golden State leaves them no other option. If they can knock down open threes, the Warriors' help defenders (primarily Green) will think twice about camping out around the rim. And that's when Lillard and C.J. McCollum can take advantage of widening driving lanes and the space their supporting cast is there to provide.
Straightforward adjustments are in order.
Here, Lillard gets a step on Klay Thompson, but instead of kicking out to a wide open Mo Harkless, he drives right into the teeth of Golden State's defense, where Green (Harkless' man) is waiting to gobble him up.
It sounds simple, but Portland's willingness to live and die on jump shots from players not named Lillard and McCollum is easier said than done. The Clippers fundamentally imposed the same philosophy in their first-round matchup, and it would've worked had Chris Paul and Blake Griffin been healthy enough to score points on the other end.
Lillard is shooting 36.8 percent behind the three-point line in these playoffs. He's the most accurate Portland shooter. Gerald Henderson (33.3 percent) is next, followed by McCollum at 32.4, Harkless at 31.0, Al-Farouq Aminu at 30.6 and Allen Crabbe at 28.6.
These numbers are atrocious, but team-wide they're knocking down 37.9 percent of their "wide open" looks (when no defender is within six feet). During the regular season, they sunk 40.2 percent across the board. This team has guys who can make shots, and both Lillard and McCollum must trust them to do what they did all year.
Watch Draymond in the clip below. Once again, Harkless is his man. Does he appear the least concerned leaving him alone in the corner? Nope!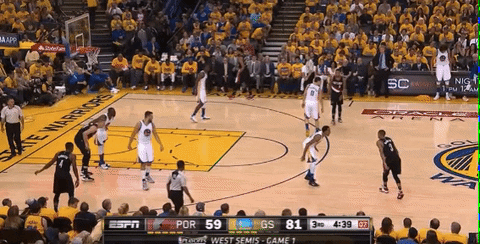 McCollum sunk this otherwise tough floater, and Shaun Livingston's length makes a skip pass to Harkless exceptionally difficult. But this attempt still feeds into Golden State's master plan.
Even when both teams go small and the perimeter is ostensibly dotted with outside threats, Green's religion doesn't change. Once again, he pinches off his assignment to wall off the rim. He's smart, and doesn't fall for Harkless' dummy action on the weak side. Crabbe's drive is all that matters, so he makes it a lot harder than it otherwise would've been.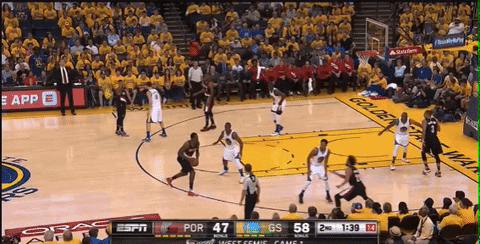 And again, here's Green drifting off Harkless one more time.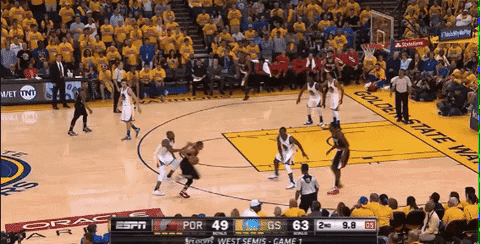 Green disrespected every single one of Portland's players whenever they stood beyond 10 feet from the basket. That goes for Henderson, too, who he leaves wide open on this McCollum drive.
Not all of these possessions offer simple reads for the ball-handler, who has a split second to figure out how he wants to attack. But this play from Lillard is one he probably wishes to have back.
As Lillard turns the corner on Anderson Varejao, Green drifts off Henderson in the right corner—where he shot 41.5 percent during the regular season. It's a no-no, and Lillard absolutely needs to make him pay for cheating by passing to Henderson. Instead he drives to the basket and misses another layup.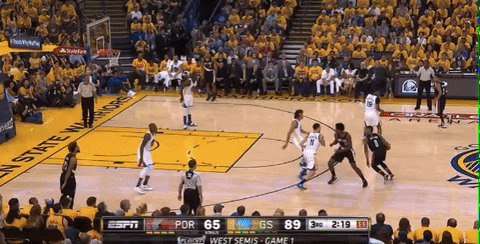 The good news for Portland? In the fourth quarter, Lillard and Portland's coaching staff appeared to pick up on a few necessary changes.
Here, after he blows by a reaching Speights, Lillard opts not to try and finish over Harrison Barnes; instead he fires a perfect pass to Barnes' ignored assignment. (You'll be shocked to hear that it's Harkless. What a surprise!)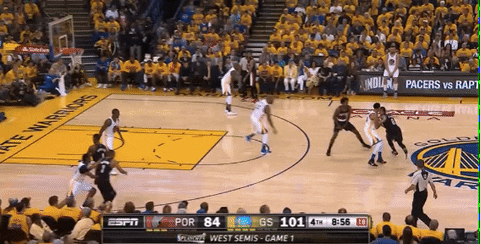 And in the clip below, watch how high Ed Davis comes to set a screen on Thompson, maximizing Lillard's room to operate. Depending on how Bogut defends it, he can either pull up for a three or drive by and force Golden State's defense to collapse.
Lillard goes with the latter. But instead of challenging Green at the rim, he dishes to McCollum, who's open thanks to a well-designed Aminu back pick. The execution isn't great, but this is the type of play Portland should go back to in Game 2.
They'll never be the favorite—and their ability to defend Golden State on the other end is an entirely different obstacle they clearly don't have the horses to overcome—but by creating open shots (and hopefully knocking them down), the Blazers at least give themselves a tiny chance to make this series mildly competitive.
To pull off a miracle, Portland will need their very best three-point shooters on the floor at all times. This means Crabbe—a 39.3 percent three-point shooter during the regular season—needs more minutes. Harkless and Aminu can't hesitate when they're open, either. (Even though they're open for a reason.) Maybe Terry Stotts even dusts cobwebs off rookie Pat Connaughton.
Desperate times call for desperate measures. To beat the Warriors, Portland will need all the outside shooting it has to catch fire at the same time.