A long round of applause is deserved for all the sunshine Carmelo Anthony singlehandedly generated over the past few weeks. From vocal demands for social justice and equality to various unforgettable Snapchat contributions. We're now midway through The Summer of Melo, and it's a glorious time to be alive.
On the court, with the Olympics now in full swing, USA Basketball's veteran leader is where he's most comfortable, able to unleash his complete offensive repertoire as, more or less, a full-time stretch four. Anthony is magical in that role, a volcano behind the three-point line whose first step is still plenty quick enough to blow by just about any defender in the world taller than he is.
The only obstruction so far as this strength translating to the New York Knicks on a more permanent basis can mostly be blamed on imbalanced roster construction and an antique playing style. According to Nylon Calculus, Anthony logged fewer than 200 minutes at the four last season (only 7.8 percent of the time), but his effective field goal percentage was 6.3 percent higher playing up a position.
The nine-time All-Star just turned 32 and last made an All-NBA team in 2013, which, coincidence or not, was the same season Anthony predominantly functioned as a stretch four. The Knicks won 54 games that year, launched a ridiculous number of threes and featured one of the most efficient offenses in basketball.
Then Phil Jackson came along. Heading into last season, Anthony thought he'd see more time at power forward, but New York's personnel made that impossible. Robin Lopez, Kyle O'Quinn and Kristaps Porzingis expected to see meaningful minutes while Derrick Williams and Lance Thomas were both more productive at power forward than any other position. New York's frontcourt was a crowd—technically, Kevin Seraphin and Lou Amundson were also on the team—and there was very little opportunity for Anthony to be where he should.
Unwilling (or unable) to rebuild around Porzingis by trading Anthony this offseason, the Knicks doubled down by completing a backpage-friendly trade with the Chicago Bulls and then giving Joakim Noah way too much guaranteed money over the next four years. At best it makes them interesting. At worst it was irresponsible. The path to building a mega-successful Knicks team three or four years down the road was obvious and realistic (meaning tank!). Instead, they surveyed the landscape of the Eastern Conference, convinced themselves that a 47-win season is possible, and decided to build on top of a shaky foundation.
For the second summer in a row, the Knicks were content fictionalizing a facade of ambition. But what's done is done. Moving forward, at least their roster is more talented, athletic and versatile than before. They also have Jeff Hornacek as their new head coach, and should be able to use Anthony as a stretch four once again.
Despite adding Noah, Derrick Rose, Courtney Lee, Brandon Jennings and Marshall Plumlee, New York is not a "super team." But who knows what can happen if everybody stays healthy, a majority of Hornacek's lineup combinations perform like a whole that's greater than the sum of its parts, and they somehow are unshackled from chains that were locked by Jackson's obsession with the Triangle. If winning a playoff series is the goal then next season just may be a success.
But just making the playoffs will be a struggle if Anthony doesn't log a majority of his time at power forward. Not only will it boost his efficiency and make defense less burdensome, but Anthony at the four also allows others to thrive.
The prime benefactor is Rose, a score-first point guard who can handle the ball, create his own shot and consistently make plays for others. A fading Allen Iverson was the closest Anthony's ever come to existing beside this particular skill-set, and squeezing as much talent as possible out of the former MVP should be a priority.
After last year's All-Star break, Rose averaged 17.4 points per game while shooting 46.8 percent from the floor and 37.5 percent behind the three-point line. Gone was his ability to make jackhammering through three layers of defense look easier than peeling a banana.
He had tunnel vision and failed to rekindle the spell-binding athleticism that earned him that very contract Chicago was so desperate to shed. But Rose proved that he can still be effective when surrounded by the right players—i.e. he needs shooters to create mismatches and space.
Example: Doug McDermott was Chicago's best three-point shooter last season. In the 672 minutes he shared the floor with Rose, the Bulls point guard was 10.3 percent more accurate in the restricted area than when McDermott wasn't on the court. Several factors lead us to that number—such as the fact that Rose likely squared off against bench-heavy units whenever McDermott played—but beyond widening driving lanes just a tiny bit, having legitimate outside shooters on the floor allows Rose to use pick-and-roll action to create and exploit specific mismatches.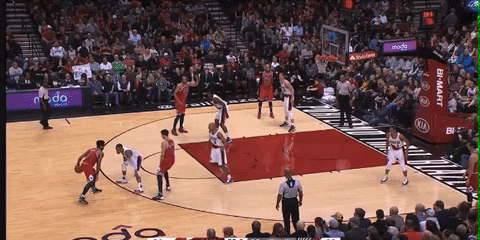 There's absolutely nothing wrong with Portland's defense on this play. They switch Gerald Henderson onto Rose and eventually force a difficult step-back jumper. But imagine Anthony as the screener, Courtney Lee and Lance Thomas in each corner and Porzingis set to pounce from the dunker's spot.
It'd be devastating to defend, and provide Rose with everything he now needs to find success inside a half-court offense.
(Defenders can always duck under the screen to give Rose a wide open jump shot, but he was lethal after the All-Star break when left alone on long twos. The sample size is fewer than 100 shots, but is also extracted from a period of sustained health and reinstalled confidence. The weaknesses in Rose's game are pronounced, but there's a reality where open pull-up jumpers aren't one of them.)
The other end of the floor may be an unfortunate adventure, but Noah, Lee and Thomas are all solid man-to-man defenders who don't make many mistakes. Porzingis will be better on that end, Rose isn't terrible, and Justin Holiday has enough length to guard multiple positions.
At this stage in his career, Anthony probably can't be the primary option on a championship contender. But he's still plenty gifted on and off the ball, and playing him at the four can begin to solve so many of the problems New York's offense ran into last season.