Losing Game 7 wouldn't be just another series loss for the Toronto Raptors, highlighting their annual struggles in the postseason. There's added pressure facing elimination in the first round for the third straight season. Losing at the Air Canada Centre to Indiana would be a cataclysmic meltdown, previously up 3-2 in the series.
Friday night's 101-83 second-half collapse highlighted some of the issues that have plagued Toronto against the Pacers through six games. Errant passes, a questionable shot selection and complete defensive ineptitude stymied the Raptors' quest for victory No. 4.
Any replication of the three aforementioned hindrances for an extended period of time in Game 7, and Indiana will be primed for an upset. However, there's an obvious solution towards reclaiming momentum early and setting the tone. Toronto is matching their average free throw attempts per game from the regular season (28.2), but has had inconsistencies taking efficient looks and optimizing possessions.
In the third quarter of Game 6, Toronto was attacking the basket and getting to the line. However, down 67-64 late in the third quarter, implosion transpired. DeMarre Carroll hoisted a relatively contested three-point attempt, ravaging Toronto's offensive fluidity.
Carroll instantly knew his shot was errant, as he raced to the basket to follow up his attempt. The underlying message showed that Carroll unnecessarily hijacked his team's momentum when a simple pump fake and slash attempt could've fostered a more effective result.
Toronto's jump shot-heavy approach tied into being outscored 61-39 in the second half. Carroll and DeMar DeRozan put up weak layups near the basket that were engulfed by shot-blocking savant Myles Turner in the fourth quarter. There was seldom creativity and lackluster attempts at creating offense has to be altered for Toronto to respond emphatically.
It starts with DeRozan, who has had a poor two weeks playing the role of primary scorer.
DeRozan isn't just the catalyst on offense, due to taking the most shot attempts on the team in the series (17.7 FGA per game) and having the highest usage percentage (28.5 percent); he also surpasses his counterparts in two-point attempts by a wide margin (15.5 FGA per game).
DeRozan can decide whether he wants to settle for a jump shot 10-to-19 feet from the basket or try to attack the basket and possibly draw contact. Regarded as one of the elite slashers in the game, DeRozan has strayed from taking shots near the basket and has been attracted to the long-range two-point jumpers.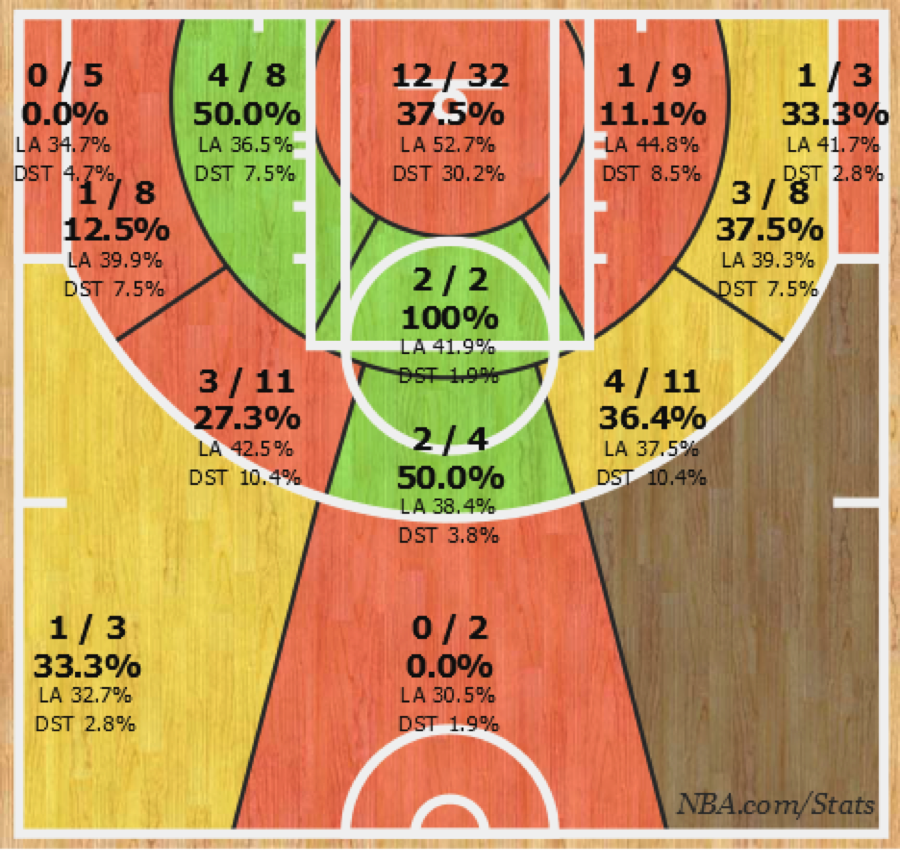 It highlights Turner's daunting presence down low and his ability to alter shots near the basket, but you'd expect DeRozan to mix up his approach in Game 6 after struggling in the previous five games. Judging by his comments after Friday night's loss in Indianapolis, DeRozan might have an incentive to finally become the quintessential star offensively.
"Not a lot of people get this opportunity to be able to play in a Gem 7, to experience what it's like to be in such a great moment," DeRozan said. "So many people are going to be watching the game, so many people are going to be outside, the crowd is going to be amazing. That type of atmosphere, you can't duplicate."
Playing in the friendly confines of the Air Canada Centre and "Jurassic Park" adding additional support just outside the arena is an undeniable plus, but a refined shot selection could have the Pacers' defense scrambling. Only shooting 32.1 percent from the floor and an unsettling 15.4 percent from three on 3.3 attempts per game, DeRozan has the ability to reclaim his shooting touch without operating as the team's primary or secondary playmaker. Dwane Casey has had his two point guards assume that role.
While Kyle Lowry has been abysmal on offense in the series for the Raptors (14.3 PPG, 31.0 FG%), he's been an efficient distributor-totaling 7.3 APG with a 33.8 percent assist percentage. Lowry's salvaged his shooting ineptitude by becoming the primary distributor on a team devoid of natural playmakers.
Cory Joseph has been an offensive revelation in the series, averaging 11.2 PPG and shooting 60.5 percent from the floor, but isn't on the same level as Lowry creating for himself and teammates.
Lowry, like DeRozan, has to figure out how to effectively score on Indiana's rugged interior similar to Joseph, who has consistently been able to sink attempts from around the basket (68.2 percent on shots less than 10 feet from the basket). Lowry, also similar to DeRozan, also has the mindset of clearing out recent poor performances and focusing on the most important game of the series.
"I don't care what's happened in Games 1-6," Lowry said when referring to Game 7, said Lowry. "I don't care if I'm shooting 31 percent. I don't care. If I'm shooting zero percent, I've got a clear, empty clip. You can change everything in one game."
Forget Terrence Ross only shooting 32.4 percent and Norman Powell converting 36.4 percent of his looks; Dwane Casey will likely give maximum burn to Lowry and DeRozan in the backcourt. He'll use Joseph as a combo guard in spurts, but the trio of Lowry, DeRozan and Carroll will occupy the majority frontcourt minutes.
There's no shortage of talent among the three underperforming arguable pseudo-stars, but they need Sunday's game to be an offensive showcase-en route to a series-clinching victory.
DeRozan's contractual status with the team looms, Lowry's diminishing impact is concerning and Carroll isn't 100 percent recovered from a knee injury suffered early in the regular season. None of that can be evident; this is Toronto's moment to lament their progression as an organization with a Game 7 victory.