The analytics movement in the NBA isn't really a movement. Teams are simply becoming more sophisticated. Like the switch to chartered flights in the early 90s, more precisely quantifying what scouts and coaches witness on the court was always going to happen. Camera-tracking technology accelerated that development and now scouting reports are dense treatises on all sorts player peccadilloes and strengths. Despite this all this info on an opponent, the perception of a player can still sometimes mask empirical evidence to the contrary. Shooting is where this gulf is most identifiable.
The NBA is a make or miss league, and that mantra went to another level when teams finally realized the mathematical benefits of shooting from beyond the arc. Because of this, it's more important than ever for defenses to negate an opponent's sharpshooters. Yet, when someone dramatically improves their three-point shooting, which happens with more regularity in the modern game, there's often a delay in a defense's response. Sometimes, a player is thought to be such a weak shooter––based off their history, janky mechanics, or a combo of both––that even year(s)-long proof to the contrary isn't enough to change a defender's mind.
Portland's power forward, Al-Farouq Aminu, with a jumper that's seemingly all elbows, is a case study for this phenomenon. Between the 2015 and 2016 seasons, when he declined his option with the Mavericks to sign a four-year deal with the Blazers, his three-point shooting percentage jumped from abysmal 27.4 on 1.7 attempts per game with the Mavs, to 36.1 on 4.3 for Portland. That production––combined with the length and mobility of a modern defender who can switch and stay with most anyone––is a large reason why Portland surprised so many prognosticators that season by winning 44 games and a playoff series after losing LaMarcus Aldridge to San Antonio. Aminu shot 40 percent from downtown––28-for-70––in those playoffs, too.
But his newly-found marksmanship didn't last. Defenders were right to take "an extra step away to clog the paint on Portland's dynamo guards." That's what ESPN's Zach Lowe wrote about Al-Farouq in March last season. Not only that, but Aminu's confidence cratered along with his accuracy. He shot just 31.6 percent on over 2.5 wide-open––where a defender was 6-plus feet away––looks per game last season. Consequently, he passed up open three-point looks to drive into an awaiting defense where his turnover percentage was the highest it had been since his third year in the league:
This season has seen his shooting make an about-face. He's connecting on a career high from deep (40.3 percent as of games played on March 20) on a career-high number of attempts (4.8 per game). It's also partially why he's sporting a career-low turnover percentage (10.7)––no more driving into an expectant defense.
The biggest thing for him now is confidence. A few misfires to start a game shouldn't dissuade him from continuing to shoot, a huge step for any shooter, but particularly one who struggles with inconsistency. There have already been signs he's turned that confidence corner.
Against the visiting Heat early in March, he missed his first four 3-point attempts. But on his fifth attempt, he pulled the trigger in the far corner despite having Justise Winslow right in his grill:
And while he missed his sixth and final attempt, he didn't equivocate after Damian Lillard found him open on the wing.
But does his improved accuracy and confidence this year mean his defender stays home when Dame or C.J. McCollum is snaking around a high screen and forcing the defense to collapse? Or, if Jusuf Nurkic catches a pocket pass and has a 4-on-3 with Aminu in one of the corners? At over 40 percent from beyond the arc, it's looking more and more likely––this year at least––he'll make defenses pay if they continue to slack off. But, for the time being, he's still getting open looks.
The perception eclipses the reality.
***
This matters more than it might seem on the surface. If the defense's attitude towards Aminu catches up to the reality of his shooting so far this season, it makes Portland that much more potent offensively. As the No. 3 seed in a deep Western Conference who just rattled off 13 straight wins, that change in perception might be the difference between a first-round exit and Portland's first conference final berth since Sheed was scaring Oregon soccer moms at the turn of the millennium.
Rip City's 115-111 loss to title-contending Houston on Tuesday night encapsulates this nicely, even as their winning streak came to an end. With Lillard and McCollum shooting a combined 9-of-32 from the field, Houston––with 42 points from Harden––should have blown them out. Except, something happened they weren't prepared for: Aminu hit 6-of-8 from deep, including 4-for-6 in the first quarter. Combined with an astonishing 14-of-15 shooting night from Jusuf Nurkic and Moe Harkless, the Blazers went back and forth against the créme that rose to the top of the Western Conference this season.
If we look closely at Aminu's 3-pointers against the Rockets, the distance between the perception and reality of his shooting reveals itself over the course of the game. First, let's look at how wide open he is for the majority of his first quarter 3-pointers.
On the very first possession of the game, he appears to have a 10-foot restraining order on the Rockets after a simple C.J. McCollum drive off a Jusuf Nurkic screen: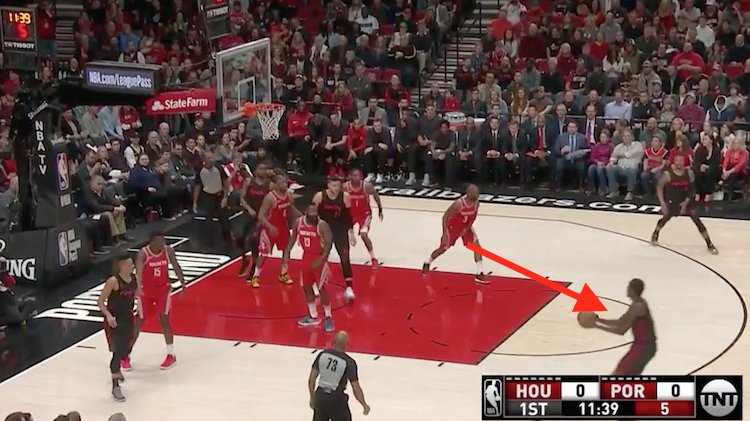 Aminu easily unfurled his clunky-looking shot for three more triples in the same session after straightforward Dame drives and kickouts. Aminu would hit two more three-pointers in the third quarter, with both coming in the weakside corner after his defender pinched closer to the paint against what were thought to be more immediate scoring threats. Eventually, Houston's perception shifted. Al-Farouq's earlier accuracy started to help his teammates.
Aminu's presence along the three-point arc distracted Chris Paul long enough on this fourth-quarter possession that Moe Harkless sneaked backdoor for a big reverse layup:
It happened later, too. CP3––with gnarled hands from picking NBA pockets for more than a decade––stayed home on Aminu despite Trevor Ariza angling C.J. McCollum in his direction with less than a minute to play. Yes, the Rockets led by four at the time, and a 3-pointer was a more dangerous result than a driving McCollum. But Paul might have dropped one or two feet towards the basket to swipe at the ball if his perception of Aminu hadn't been affected by the earlier threes.
***
As of this writing, Aminu's No. 15 out of 490 players in wide open 3-point attempts this season. Portland's electrifying backcourt knives into the paint like hot butter, which allows Al-Farouq space to shuffle unimpeded along the arc with those jangly elbows hanging loose, ready to catch and shoot.
Unsurprisingly, three Houston sharpshooters––Eric Gordon, Ryan Anderson and Trevor Ariza––all fall above Aminu on that list of wide-open 3-point attempts. That's because they play with one of the only two backcourts in the NBA today (the other splashes around the Bay) that can compete with Portland's driving and dishing dynamos. And Gordon, Anderson and Ariza are all considered legitimate 3-point threats, a big reason why Houston has looked the likeliest to knock off a bored and banged up Golden State squad. But here's something to consider, even after the ostensible 2018 MVP went into the City of Roses and took one off the hottest team in the West on Tuesday.
On fewer attempts, because it's Daryl Morey's dang Rockets, Al-Farouq Aminu is shooting at a significantly better clip from downtown than Gordon, Anderson or Ariza. If that continues, the perception about him will catch up to the reality. Either that, or Portland gets performances like the one he gave on Tuesday night––except with Dame and CJ shushing nylon again.
All stats courtesy of NBA.com and Basketball-Reference.com unless otherwise noted.