With a rebuild looking to be going awry, a young and talented but directionless Orlando Magic franchise turned to a known NBA commodity. Scott Skiles, a veteran coach known for his hard-nosed approach, was brought in to turn the team's defense around just as he's done at every other stop in his coaching career. And while Skiles has done that -- Orlando has jumped from 27th in efficiency to 8th this season -- it's been the team's offense that has been the most surprising development.
Though they have merely improved eight spots in terms of efficiency, it's how the team's offense looks that is so promising. With no big time player acquisitions, it's clearly not the result of a free agent import. So what's behind Orlando's offensive revival? Execution.
One of the more ambiguous words in the NBA lexicon, the Magic under Skiles are providing another clear definition. The team's spacing and timing are much improved and there are are for more possessions with a whirring combination of ball and player movement, but the biggest way to see improvement in this regard is how the react to opposing defenses. An offense that can understand what the defense is giving them -- or more importantly, taking away -- is one that is bound to be successful. And in this early part of the season, you are starting to see a Magic team transforming into an execution machine.
In their game against Minnesota last night, you can clearly see how far along this Orlando team is coming in this regarding. It seems like every few offensive possessions, Orlando was met with an attempt to get them out of their preferred actions and countered without a moment's hesitation. Take this set designed to get Evan Fournier into a pick-and-roll early in the first quarter:
Fournier looks to free himself going from the right to left wing by using what is (sometimes) termed an "Iverson cut", where a player loops over the top of two bigs at the elbows to receive the ball. After catching, Orlando big man Nikola Vucevic would typically trot over and set a ballscreen for Fournier. But Wolves head coach Sam Mitchell looked to thwart that by denying Fournier the initial catch as he cuts over the top: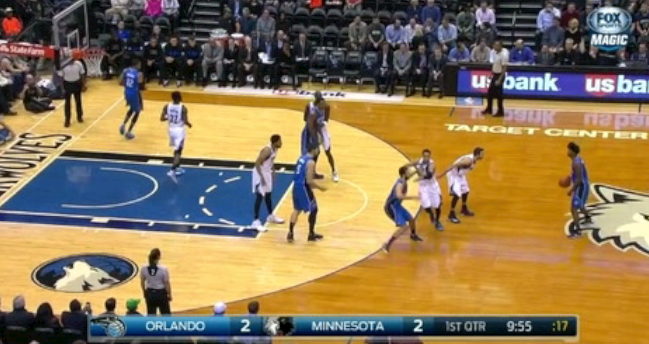 As always when it comes to defending NBA offenses, when a team tries to take something away it usually leaves opens them up to being hurt somewhere else. In the case of the play above, it was Vucevic catching and looking to quickly unleash a drop pass for Fournier to get him on his backdoor cut to the rim. But it's the fact that they didn't get that backdoor counter that really leads to the impressiveness of this Orlando execution.
Instead of Fournier wandering aimlessly inside the key or Vucevic either hastily reversing the ball or trying to go 1-on-1 -- the type of things that bad offenses have a lot of in response to defensive denials -- the Magic respond like a well-oiled machine and end up with an easy layup for their French shooting guard.
Just a possession later, we see more fast-thinking by this young Orlando squad. This time, it's in the form of recognizing an early switch in transition that finds an aging Kevin Garnett swapped onto Tobias Harris, arguably the Magic's best scorer.
The brilliance in this play is a little more subtle. Harris initially doesn't even seem to really notice the switch and actually passes back out to veteran power forward Channing Frye. Frye, a savvy vet, immediately swings the ball right back to Harris and encourages him to attack Garnett in space. Vucevic, who cut into the strongside block looking for a post up, also quickly aborts his endeavor in order to clear the way for Harris to take on a venerable, but aging defender. You can debate the efficacy of this decision, but you certainly can't knock the pace and fluidity behind Orlando getting to this impromptu isolation for Harris.
Just a quarter later, Harris finds himself involved in yet another smart, well-executed counter.
As the Magic push in transition, reserve forward Andrew Nicholson moves to set a screen early on in the possession for Orlando's new supersub, Victor Oladipo. Nicholson is more a "pop" guy than a fearsome dunk-machine, so Minnesota big man Nemanja Bjelica gets ready to execute a "hard show" pick-and-roll coverage. Harris notices this and immediately calls for the ball.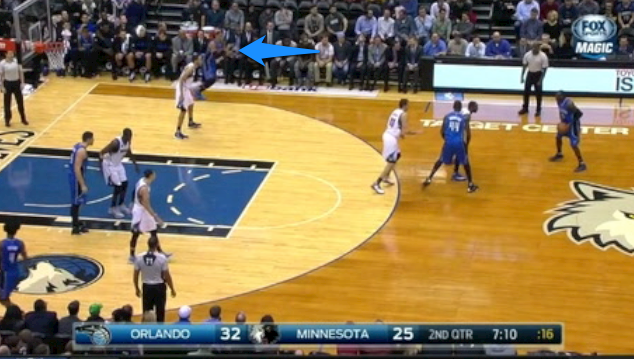 The reason Harris moves higher on the floor to receive the pass is because he knows that the Wolves Bjelica is in a vulnerable position having to move above (as in closer to halfcourt) his man in order to contain the ballhandler -- a move that leaves him vulnerable to Nicholson slipping into space, which he does right as Harris receives a pass from Oladipo.
This type of manuever is a textbook counter to teams that use pick-and-roll defenses that hedge above the screener and "attack" the ballhandler, but aside from the Spurs (who crushed Miami in the Finals when they used the same philosophy) most NBA teams don't react nearly as well or as fluidly when faced with these types of situations. It's a credit to Skiles that he can bring about the awareness of such situations that three players 25-and-under on his roster can come together and conduct themselves like the sage veterans on San Antonio.
While smart, precise execution and an effortlessly ability to flow deep into their offensive options are a great thing for a team to have, they aren't always necessary for great success. Under Scott Brooks, the Thunder essentially overwhelmed teams with raw talent to make several deep playoff runs. Ditto for Houston's run to the Western Conference that was essentially the brilliance of one player -- James Harden.
But the Magic never quite captured such an elite talent during their post-Dwight Howard rebuilding effort. As Oladipo, Harris, Vucevic and Fournier are proof of, they didn't exactly strike-out either. Instead Orlando had to "settle" for a handful of very good (though arguably ill-fitting) pieces. With players like that, the only way close to a championship is flawless execution -- on both ends of the floor. And though we assumed Skiles was going to bring that to the team's defense, the fact the offense has shown such impressive strides is what should be exciting for Magic fans.
What's even more worrisome for future Orlando opponents is that these clips aren't some random plays spaced out over the course of this season. Instead, they all occurred in the same half. It looks like this young Magic team that was once teetering on the brink of an extended rebuild is finally ready to execute like a contender.