The Houston Rockets are experiencing quantum levels of regression from their Western Conference Finals appearance last season. Space City always seem to be one of the NBA's most polarizing organizations, but the team is vastly underperforming by any set of expectations and there are plenty of culprits.
A first-year head coach, a veteran-laden, flawed roster and a bevy of other issues corrupt the present state of the Rockets. Maybe this an anomalistic year, similar to Oklahoma City's injury-riddled campaign of last season, but many things have stood out that have led to Houston's descent back to the middle of the Western Conference.
A glaring issue is J.B. Bickerstaff's hyper-reliance on James Harden. Harden is leading the association in total minutes played, having to carry the load offensively once again and appears to be burned out by the burden. If he continues to log minutes at his current pace, it would be the second-consecutive season in which he's led the league in total minutes.
Even as a two-guard, Harden plays the part of ball handler on a team lacking playmakers. His 32.7 percent usage rate tops many point guards in the league, including Chris Paul, John Wall, Stephen Curry and Kyle Lowry. The robust number is an indicator of Harden's vitality in the Rockets' offense, and it's warranted based on the elite numbers he produces.
Harden is on pace to be just the seventh player ever to put up 28.0 PPG, 6.0 RPG and 7.0 APG or more in a season, per basketball-reference.com. His prolific ability to boost an offense in a bevy of ways and put the opposing team in regular foul trouble (10.4 free throw attempts per game) illustrates his importance to remain on the court.
Quin Snyder reiterated this notion after Utah's win over Houston this week.
"Last year, he had 10 assists for 30 points," Snyder said. "I'd say assists, but the ones you equate to 3-point shots. He does a lot of things. He gets to the basket. He gets fouled. He makes 3s. But when he's passing the ball and they're making shots, that's a dimension to the team that puts them over the top."
Harden has also become one of the team's primary three-point shooters, which hasn't been as effective for Houston. Shooting 34.2 percent on 7.9 three-point attempts per game, Harden's field-goal percentage has plummeted and has clashed with his elite ability to drive, draw fouls and create scoring opportunities. His three-point shooting is the offset to his dribble penetration and ability to draw fouls, but settling for those shots could be a sign of fatigue.
Harden, as evidenced by his shot chart, should continue to attack the basket, draw contact and limit the volume of his three-point attempts. Howard is up to 10.2 three-point attempts per 100 possessions this year compared to 9.3 last season. Harden is also turning the ball over at a higher rate (16.1 TOV% compared to 14.9 last season).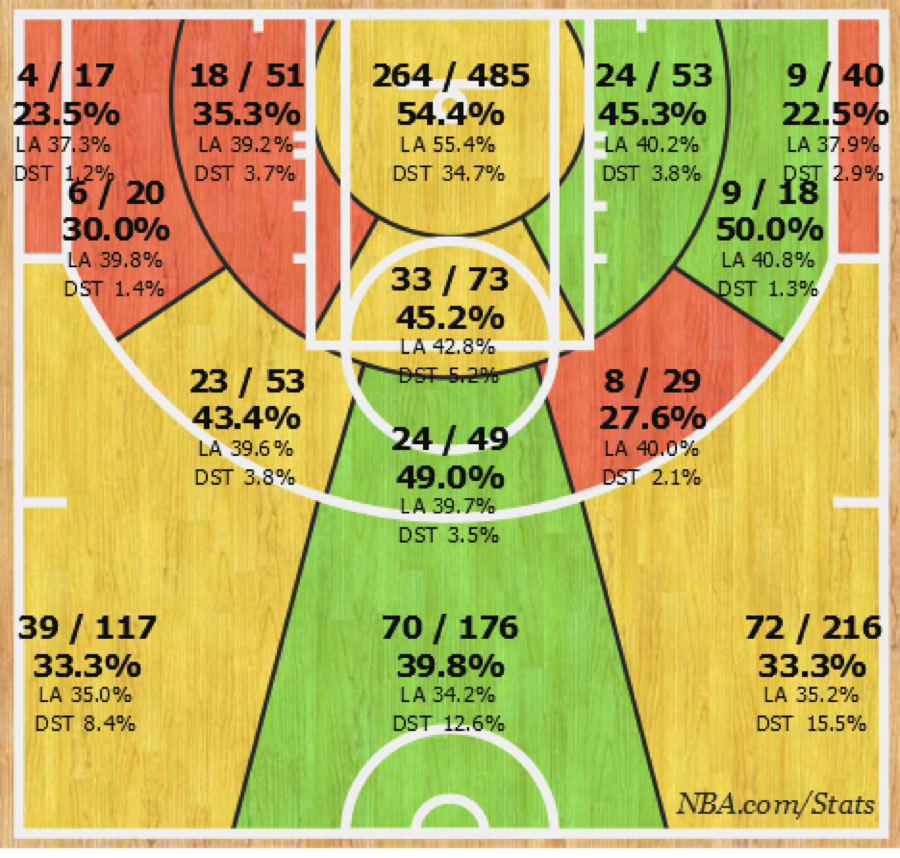 With a team-high 52.4 passes per game, Harden creates 17.9 PPG from his assists, which ranks eighth in the league. This is in part due to Houston's propensity to shoot a copious numbers of threes per game.
But what if Harden could operate in a more natural, less voluminous realm of a scorer? Harden's usage has increased from 27.7 in 13-14 to 31.3 last season and up to 32.7 this season. Those totals occur while Howard's usage in his final season with the Magic was 26.2 and then hit 24.1 in 13-14, 23.3 in 14-15 and down to 18.8 this season (15.8 in March). The Rockets were expecting Harden and Howard to be co-stars but the latter has the offensive usage of a role player.
Harden has had such a large responsibility for the Rockets offensively in the playoffs and the regular season throughout his tenure and that has compounded his issues on defense. In the midst of recovering from a sprained left ankle, it might double down on Harden's lax approach guarding slashing wings.
At 6'5" and 220 pounds, he has the body type to stymie smaller two-guards and driving point guards when matched up on them. Harden doesn't have the build or athleticism to be a defensive stopper regardless, but many of his issues come from overuse on the offensive end.
But Harden needs to contain his man and help out from the weak side of the court if Houston desires to play meaningful playoff basketball. Unlike last season, the Rockets haven't been able to pick up Harden defensively with their supporting cast and they've dropped from eighth in the NBA in defensive efficiency to 22nd this season. The Rockets have scored at a better rate this season compared to last, but the drop in defense has brought them to league average in efficiency differential.
With Harden's decrease in efficiency, increase in usage and the domino effect those two things have had on the Rockets, they have made this season more difficult upon themselves than has been necessary.