With free agency and Summer League in the rearview mirror, NBA fans start to turn their attention to the 17-18 season and part of that is learning who is worth tanking for. And that would be Michael Porter, Jr., the Missouri-commit who currently ranks first on Draft Express' Top-60 (1).
The just-turned 19-year-old is coming off a wildly successful year. After moving from Missouri to Seattle, the six-foot-10 forward led Brandon Roy-coached Nathan Hale, a high school that had lost 18 of 21 games the previous season, to a 29-0 record and a state championship -- the school's first since 1994.
Porter dominated in high school due to his athletic prowess but also showed an appealing level of skill for someone his size. The combination of dribble moves and shot making he displayed, even if still in its infancy, makes his scoring potential tantalizing.
That said, Porter doesn't have a particularly polished skill-set at this point of his development. He got most of his offense in the halfcourt out of isolation plays, as Roy didn't put him in the pick-and-roll often. He also didn't have much opportunity to showcase the versatility of his shot.
Defensively, Porter has the combination of physical profile and athletic ability to potentially develop into an impact defender who could make a difference in a variety of ways. He's far from materializing into that, though. As it tends to be the case with most teenagers, his effort on that end was subpar more often than not.
- Offense
Porter doesn't have an explosive first step to just blow by his man on speed but got consistent dribble penetration in high school through craftiness.
He has a hesitation move to get around his defender and can go behind the back, between the legs and crossover to shake him side-to-side as he gains ground, though he doesn't have a lot of suddenness changing directions.
His handle is only OK but Porter does a decent job of protecting the ball in traffic by tucking it in as he starts his 1-2 step.
Though he isn't yet strong enough to finish through contact consistently, Porter can explode off two feet to go up strong in a crowd. But more impressive, perhaps, is his touch on non-dunk finishes after he adjusts his body in the air or uses his length to extend around rim protectors.
Despite the size advantage he frequently enjoyed in high school, Porter didn't often bully his way to the basket all the time. Some defenders managed to contain penetration but in these instances he unleashed a nice-looking floater to score from the in-between area.
His go-to asset at this point of his development is his pull-up jumper, though. Porter was an aggressive shot taker off the bounce with suspect shot selection but flashed some impressive shot making ability. He is capable of hitting stop-and-pop threes if left unchallenged and side-step into his shot to create separation or hang dribble into his pull-up to freeze his defender as he gets the shot up.
Porter has room to work on his process, as he has a habit of kicking with one of his legs, but seems to have a good base to be improved upon. His release is not lightning-quick but isn't particularly methodical either, the ball comes out relatively easy and he gets good elevation to let it go from a high point.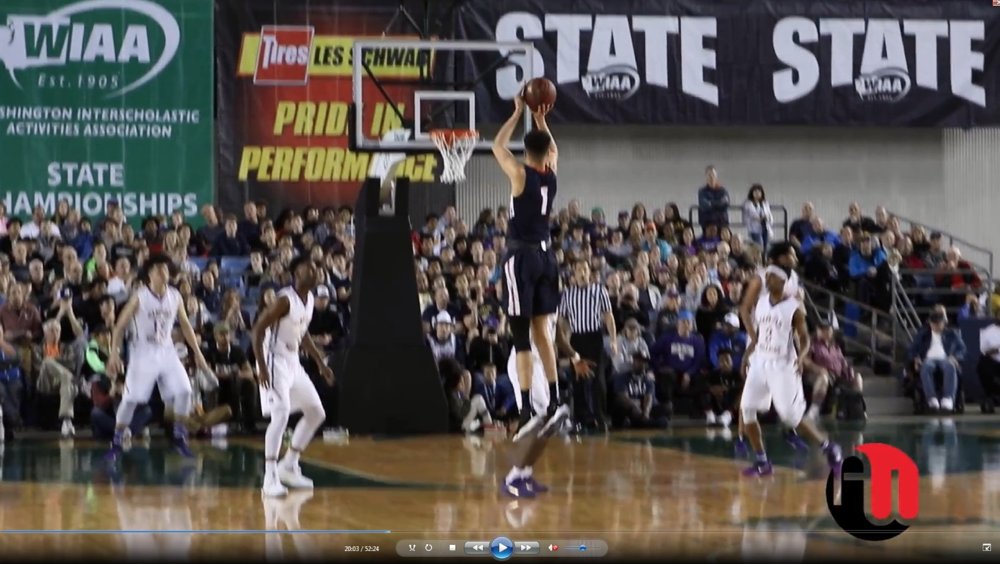 Porter didn't have many opportunities to showcase if he has any versatility to his shot, though. He didn't get many catch-and-shoot looks spotting up from three-point range, wasn't put in the pick-and-pop and Roy didn't have him coming off pindown screens or sprinting around staggered screens.
Porter also wasn't asked to screen-and-roll but proved himself able to play above the rim as a target for lobs filling the lane in transition or sneaking behind the defense on weak-side cuts.
Other than isolating from the perimeter, Nathan Hale most often tried getting him the ball in the low post, which led to mixed results. Porter doesn't play with enough physicality to secure a deep seal consistently, as he was often pushed further away from the basket.
He was able to overwhelm some opponents with an explosive catch, turnaround, two-foot dunk sequence but for the most part did not impress with power moves or a diverse arsenal of shot fakes and hooks. What Porter likes to do from the low block is facing up for a rip-through jumper or drive around his man.
Porter proved to be a decent passer on the move. His best work was in transition, when he grabbed-and-go off a defensive board and either passed ahead to speed up the pace of the game in appealing fashion or led the break himself and hit a teammate filling the lane with an awesome bounce pass.
But he also flashed some encouraging passing in the half-court, as he proved himself able to spot strong-side shooters on drive-and-kicks. Porter hardly played any pick-and-roll, so there was nothing to see in terms of pocket passes or kickouts across his body to the weak-side, but he showed some patience handling double teams at the point of attack and some court vision on a few crosscourt passes here and there.
- Defense
Porter played some center at times and wowed with a few blocks protecting the front of the basket, putting his explosive leaping ability off two feet and nine-foot standing reach to use.
But he was mostly disappointing acting as the last line of defense. He didn't show particularly impressive instincts helping off the weak-side and didn't challenge as many shots as he was expected to when he found himself well positioned.
Porter was easily distracted when put in the pick-and-roll or had to keep an eye on an opponent posting up a smaller teammate and often lost his man later in these plays.
He wasn't consistently attentive to his boxout responsibilities and when he was, Porter would just put an arm on the opponent rather than getting physical establishing inside position.
He really seems best suited to defend the perimeter.
Porter had a very impressive play in the Nike Hoop Summit where he got in a stance, pressed his man and used his seven-foot wingspan to reach around and force a steal. He didn't play with that much tenacity at Nathan Hale but impressed with his agility even at half-speed.
Porter showed some nice lateral quickness sliding side-to-side to stay in front of similarly-sized players and can keep pace with smaller players on straight-line drives. He is not an option to switch onto these smaller types for full possessions, though, as he is unable to get skinny and navigate over ball-screens.
As a weak-side wing defender, Porter sometimes sells out of his closeouts but for the most part showed good quickness to run shooters off the three-point line and maintain his balance to prevent a free path to the middle a fair amount.