Nothing has come easy for Brad Stevens. The Celtics have turned over their roster numerous times since Stevens was hired away from Butler in 2013, but he has continually squeezed the most out of whatever Danny Ainge has given him.
Stevens found a way to win 25 games with Jeff Green as his leading scorer in his first year, saw the team through the end of the Rajon Rondo era, took Isaiah Thomas from super-sixth man to All-NBAer, and now has a team with plenty of room to grow at the top of the Eastern Conference for the second-straight season.
The most impressive aspect of his success has been his ability to put players in positions to be productive. The Celtics have made a habit of acquiring flawed players and turning them into valuable pieces in a functioning NBA system.
There is no shortage of examples.
In his lone season under Stevens, Kris Humphries had the highest PER (18.2) of his career. Tyler Zeller and Jae Crowder enjoyed similar surges of production while with Boston.
Over his four-plus seasons with the Celtics, 27 players have logged 25 or more games under Stevens after either coming from another team or before leaving for a different franchise.
Almost all of these players came to the team with some weakness, there are very few players without at least one, but Stevens has found a way to mine the best out of nearly every player. Fifteen of the 23 players with previous NBA experience that the Celtics acquired under Stevens had an increase in PER.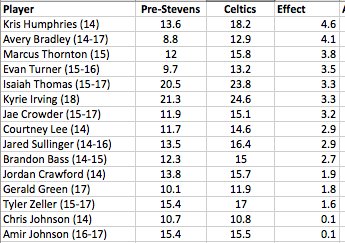 There are a variety of factors that come into play when analyzing why a player may have seen a jump in their PER. The rate at which players have done so in Boston has to be attributed to the coach, but age, opportunity and health come into play.
It's important to note, however, that the range of player that has thrived under Stevens is wide. Kris Humphries was 28 when he came to Boston. Avery Bradley blossomed after beginning his career under Doc Rivers. Evan Turner was coming off a tumultuous tenure with the Pacers, and Thomas was brought in to play a larger role than he did with the Suns. All played their best with under Stevens.
Stevens has juiced the orange with role players (Humphries, Marcus Thornton and Courtney Lee, etc.) and stars (Thomas and Kyrie Irving).
If you are inclined to give Stevens less credit for the ascendance of these players than I, look at the post-Boston PERs for this selection of players. Only six of the 23 players that went on to play elsewhere post-Stevens increased their effectiveness the very next season.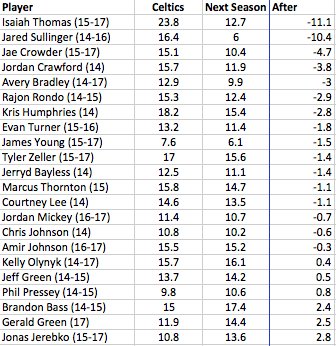 The direct effect of Stevens' brilliance is a burgeoning contender in Boston, but the aftershocks have been felt throughout the NBA. There has been perhaps no bigger benefactor than Evan Turner.
Turner, a former second overall pick, was good but not great with the Sixers and was supposed to help push the Pacers past the Heat in 2014. Instead, his value plummeted over a few listless months in Indiana. The Celtics signed for less than $7 million over two years. He excelled as a ballhandler with the Celtics (with career-highs in both usage rate and assist percentage) before landing a four-year, $70 million deal with the Trail Blazers. He hasn't had nearly the same imprint in Portland and his contract has become a burdensome one.
The jury is still out on whether Thomas can once again be the type of unstoppable offensive force he became with the Celtics, but the early Thomas/Irving returns shine a bright light on Stevens once again.
Irving, already an All-NBA talent, has taken another step forward under Stevens while playing with more freedom without LeBron James. Meanwhile, Ty Lue and the Cavaliers are still trying to figure out how to work Isaiah into the offense a month since he returned from a hip injury.
This season, the 37-15 Celtics have received contributions from the likes of Shane Larkin and Daniel Theis. It's not fair to them to assume they wouldn't be productive elsewhere, but it's also clear that Stevens deserves a lot of the credit.