Davion Mitchell was the 63rd-ranked prospect in the 2017 high school class. After a single year at Auburn, where he was a lower-end rotation player in his 34 appearances as a freshman, the six-foot point guard transferred to Baylor.
In his two years in Waco, he averaged 14.6 points per 40 minutes on 55% effective shooting and assisted on 25% of the team's scores when he was on the floor [2], as one of the linchpins (alongside Jared Butler) of Baylor's potent drive-and-kick attack.
The Bears were awesome these past two seasons, winning 26 of 30 games in 2019-2020 and ranking third in the country in adjusted efficiency margin [3] before the pandemic put a stop to that campaign, then returning pretty much the entire team to win 28 of its 30 games this past one and beat Gonzaga in the National Championship game.
I wrote exactly around this time last year that Mitchell hadn't made the cut on ESPN's way-too-early 2021 mock draft and despite his standout athletic ability, he wasn't considered a high level draft prospect because of his age and his unimpressive statistical profile.
Things have changed considerably since then, with Mitchell now ranked seventh on ESPN's top 100.
His age (he'll turn 23 in September) remains a point against him, in the sense that, according to our database, while the list of players aged 22 or older drafted in the lottery over the last 10 years does return a group of players with decent careers as serviceable back-half of rotation guys, it doesn't return anyone who is or has been a top three player on a good team, which is what you are usually hoping to get with one of the first 14 picks, even if the historical expected return states this should be your expectation all along.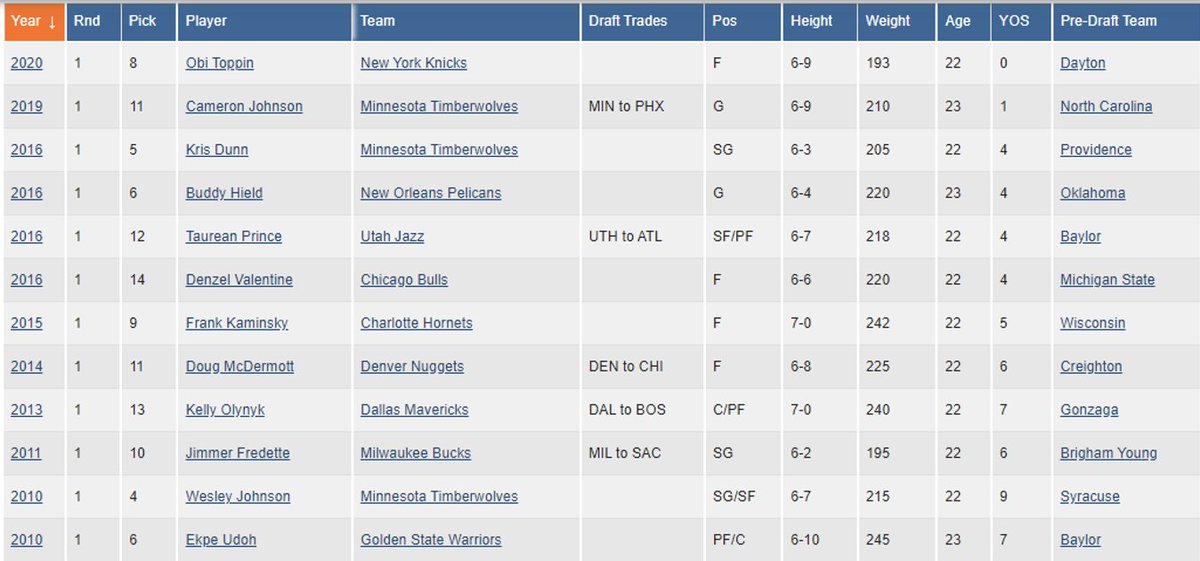 But the Stockbridge, Georgia native was arguably the best player on what ended up being the best team in college basketball, shot well from all over the floor (except the foul line), and improved his assist-to-turnover ratio substantially. His plus-3.8 pure point ratio is a top 10 mark among all players on ESPN's top 100.
Besides his age, his height could be viewed as a drawback. The NBA dialed down a bit its size revolution, which was moving towards wing-sized players running point, wing-sized players spacing the floor and wing-sized players playing center, but over time a general bias towards height remains. The usual line of thought goes that, the deeper you get into the postseason, the more capable the lengthier defenders become and the less likely it gets for shorter players to see the entire floor on the move (with Chris Paul standing out as a notable exception, of course). Mitchell's struggles passing in traffic and his propensity for turning the ball over in a crowd, limiting his effectiveness as a ballhandler in the pick-and-roll, play into those exact concerns.
He has a strong 202-pound frame for someone who stands at six-feet without shoes, though. Given the nature of Baylor's lineup makeup across the perimeter and its aggressive help defense principles, it was common to see him crossmatched onto wings or mix it against pure big men under the rim and hold his ground from a physicality-standpoint. Despite his rise in stardom on offense, he remained a committed defender and won Defensive Player of the Year honors in the Big 12.
Thus, the appeal with him regards a resourceful, quick scoring guard, primarily in isolation, who can threaten putting the ball on the basket with reasonable efficiency from all over the floor (with almost 40% of his three-point makes unassisted last season [4]) and create for others at a decent clip. His tenacity defending on the ball and effort executing the scheme away from it round up what amounts to a very enticing two-way profile.
Isolation Offense
Baylor played a 'my turn, your turn (Jared Butler), my turn, your turn, his turn (MaCio Teague, Adam Flagler)' approach in the half-court, but there was a good deal of dynamism to the attack, with Mitchell and Butler rarely catching-and-holding or dead-dribbling a hole into the ground.
Mitchell has a quick first step and can blow by his man on a straight line if he feels him getting a little too spacey, besides being able to maintain his balance through contact due to his core strength. That said, his burst off side-to-side shake is probably his most impressive trait. His first step out of a nasty low crossover is tremendous.
Mitchell has a very strong preference for driving left and is not an explosive leaper off foot in traffic (just two dunks in 973 minutes [5]), generally acting as a below the rim finisher, but can hang in the air and has shown some versatility to his finishing around rim protectors parked between him and the goal; wrong foot-wrong hand speed layups, comfort going to his left hand in the air, right-handed finger-rolls, left-handed scoops, off-balance wild attempts with a real shot of going in.
He converted 64.5% of his 107 attempts at the rim, at a pace of 2.8 such makes per 40 minutes – solid marks considering over four-fifths of his makes were unassisted and there was almost always someone contesting him, given the nature of Baylor's lineup makeup with two of Mark Vital, Flo Thamba and Jonathan Tchamwa Tchatchoua usually on the floor together.
He didn't get to the foul line much, though, especially for someone who took one-third of his live-ball attempts near the goal – averaging just 2.6 free throws per 40 minutes. His 20.7% free throw rate is a bottom 15 mark among all players on ESPN's top 100.
When kept from getting dribble penetration, Mitchell has a diverse set of moves to create separation and be able to get good looks away from the basket. He has a smooth pull-up package, including three-point range, proving himself capable of getting shots off the dribble via crossovers, step-backs, hang dribbles, jab steps, crossing over between the legs – shooting 42.6% on 61 two-point shots away from the rim and nailing 25 unassisted three-point makes last season, at a pace of 1.0 such make per 40 minutes.
Mitchell flashed some patience keeping his dribble alive to probe around the baseline if a help defender cut off his chance of attacking the basket with decisiveness and proved himself a willing passer off drawing two to the ball – assisting on 28.3% of Baylor's scores when he was on the floor last season.
Pick-And-Roll Offense
He is not a particularly advanced operator in pick-and-roll but has developed some versatility to his approach for manipulating his man into the ball-screen; in-and-out dribbles to shake him into a false step, good patience for circling back to use the re-screen, playing with pace to put his man in jail and snaking his way around traffic to make it all the way to the basket.
His shot selection is a bit of a mixed bag, but Mitchell returned 61.3% effective shooting (second-best mark among players listed as point guard on ESPN's top 100) while unassisted in two-thirds of live-ball field-goals and is at his most capable off the ball-screen as a scorer, when he manages to operate with a limited budget of dribbles; rising for one-dribble pull-up three-pointers on side pick-and-rolls or getting to the foul line for stop-and-pop mid-range jumpers.
While he is prone to operating with a looser handle in traffic, Mitchell is able to rely on his shiftiness and straight-line quickness to maneuver his way through tight spaces and beat the help defense to the goal. His average of 3.0 turnovers per 40 minutes seems quite acceptable for a small ballhandler who looks to get into the teeth of the defense constantly.
The concerns regard his ability to create for others out of the pick-and-roll. Mitchell is capable of executing pre-arranged reads and a willing passer off drawing the big man defender to commit to him fully but isn't very adept at adjusting on the fly when the first window is taken away, hasn't yet developed the touch to toss up lobs on the move, and often struggled to hit the weakside corner with good timing in traffic.
Off-Ball Offense
Mitchell developed into a more reliable open shot shooter in his second year at Baylor – nailing 44.7% of his 141 three-point shots, at a pace of 1.6 assisted makes per 40 minutes.
His overall approach is very solid; elevating off 1-2 footwork, going through textbook weight transfer, rising in balance, and getting tremendous elevation in order to make up for his compact release out in front.
Mitchell took a few quick bombs off drifting around the wing to sustain proper spacing but hasn't shown a ton of versatility to this release in terms of taking shots on the move, other than out of a dribble-handoff on a BLOB set.
He shoots an easy ball with his feet set but missed one-third of his 175 free throws in his three NCAA seasons, which is a bit of a head-scratcher.
Individual Defense
Mitchell used to approach the opposing ball handler in more of a hunched down posture but nowadays bends his knees to get down in a proper stance.
His level of competitiveness, energy and quickness harassing opponents truly stands out, as he is often seen playing with an aggressive approach in his attempts to heat up ballhandlers and play with active hands reaching around to try poking the ball to get strips or steals – though his six-foot-four wingspan [6] limits his ability to be even more effective.
While prone to getting beat eventually if forced to slide around the length of the perimeter, in a more contained area and against opponents looking to go side-to-side, Mitchell has shown to be a full package defender who defends with his feet, his arms, his hips and his chest, all in sync and with a good deal of coordination.
He is quick enough to stay in front side-to-side, beats the opponent to the spot, can chest up to contain dribble penetration through contact, guards with his arms up within the lane and contests within the shooter's personal space. Mitchell has only an eight-foot standing reach but is quick off the ground, which makes him plenty effective contesting against similar-heighted players.
Given the nature of Baylor's makeup across the perimeter and its aggressive help defense principles, Mitchell crossmatched onto bigger wings regularly and picked up pure big men on switches a fair amount as well – possessing the toughness, the tenacity, and the physicality to be able to front the post and deny easy post entries.
He exceled against the pick-and-roll as well, attentive enough to ice ball-screens on the side of the floor and impressing with his energy against actions on the middle of the floor. He struggles a little to get skinny cleanly through screens at the point but hustles in pursuit with a good deal of speed, can make it back in front if properly aided by the help and gets off the ground quickly to contest within the shooter's personal space.
Team Defense
Mitchell hustles back in transition in a way that stands out but isn't athletic enough to act as a threat to block shots on the regular.
In the halfcourt, he proved himself a smart off-ball defender who can be relied on to execute the scheme; guarding two off the ball, active when the defense found itself in scramble mode, picking up the roll man and joining scrums under the rim to boxout bigger players, though he is only an average rebounder for a guard – collecting just 8.2% of opponents' misses when he was on the floor last season.
Mitchell can pick up the occasion block defending on the ball but isn't an asset to help protect the rim exploding off the ground coming off the weakside in help defense. He is a very willing charge drawer (very, very willing) but is usually of most help by just standing in the way and helping crowd the area near the goal.
A good chunk of his steals was created reaching around defending on the ball, but, while not especially lengthy, Mitchell also flashed some ability to make plays in the passing lanes, with his average of 2.3 steals per 40 minutes standing out as a top 10 mark among all players on ESPN's top 100.
---