A new twist on "Hero Ball"
Crunch time shots in the NBA usually are manifested in one of two ways -- static isolations (or post ups) and pick-and-rolls. But as we've learned with the war on "Hero Ball", isolations where the ball handler is looking for his own shot give the defense a much greater shot at stopping their opponent with the game on the line. And while pick-and-rolls are a better option more often than not during these circumstances, they too bring in a unique set of challenges for an offense late in games.
Just bringing an added defender toward the ball during a pick-and-roll adds more bodies for the ball handler to navigate in order to find space for a shot. The defense can also employ a number of strategies -- trapping, switching and "switching up" (where a perimeter defender, usually guarding a corner shooter, rotates onto the big man sprinting up to screen in order to switch again and make the ball handler attack a more mobile player) -- that make life in crunch time even harder for an offense. After all, any switching strategy out of a pick-and-roll late turns the possession back into one of those inefficient isolations.
During the last possession of the second quarter in the Friday's Boston-Denver game, the Celtics ran a clever play in an attempt to create a good look just before halftime.
Though diminutive backup point guard Phil Pressey ultimately dribbles himself into a turnover, it shouldn't discount the merit of the approach. What head coach Brad Stevens called for was what is known as a "blur cut" in dribble-drive terminology (Though it's basically just a shallow cut and probably is referred to by a million other terms depending on who you ask. Related: basketball terminology is confusing), a concept meant to free up a swath of on-court real estate for the ballhandler to drive into.
When you judge it by the process, the concept certainly worked. Here's a screenshot of the above play taken just after Evan Turner makes his cut: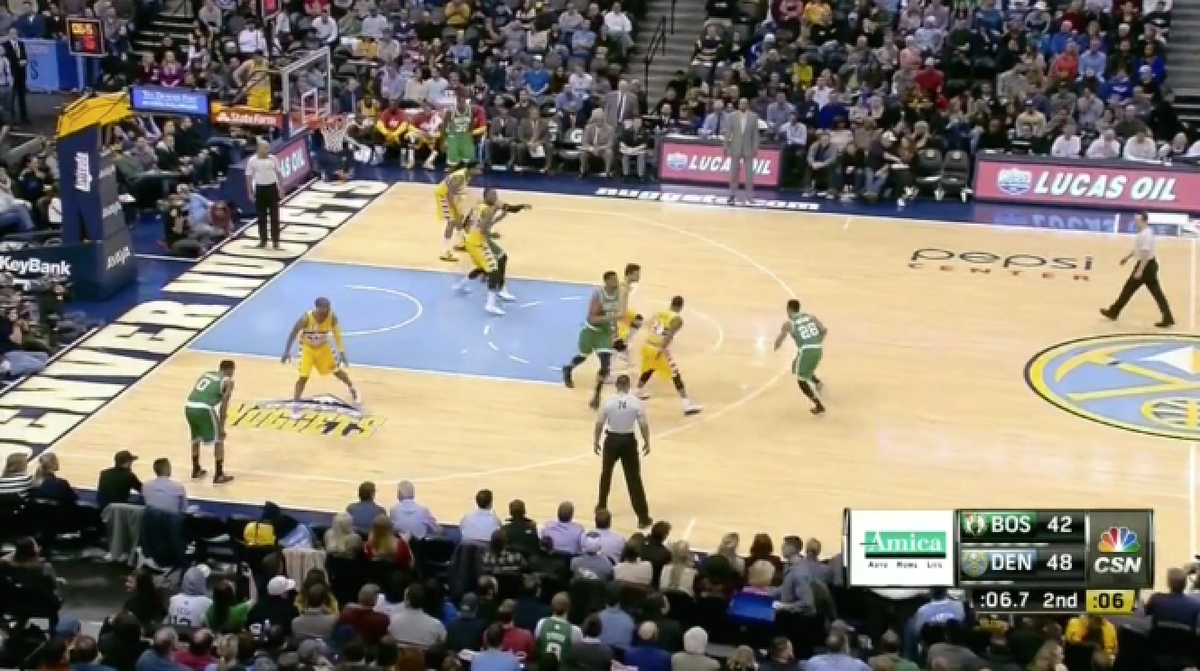 Because of Turner's crafty movement -- which is meant to mislead the defense into thinking he's going to set a screen -- his teammate Pressey has an enviable amount of space to attack going to his right. Unfortunately, Pressey, a reserve that sees spotty playing times on a bad team, can't find a clean look. But if you swap Pressey out with say, Russell Westbrook, you can probably imagine how much better the result would turn out.
Now Stevens isn't the first coach to implement something like this. Other teams and players have run similar actions for a few years now across all levels. What's interesting, to me at least, isn't that Boston ran it, it's why teams don't use this more often at the end of games, especially teams whose star players are hellbent on taking the last shot. Even star players become relatively easy to defend in those situations because a smart defender knows exactly where his help is and how he can send the ballhandler to it. By randomly cutting a defender out of a driving gap, the on-ball defender is far more isolated and his job to contain an elite NBA player becomes that much harder -- even if the defender knows what direction he no longer has a help defender watching his back.
This concept certainly isn't a silver bullet to late-game scoring, but it certainly seems like something teams across the league should be considering using a whole lot more.
Know your role
In his first 114 games since he entered the league after being drafted 9th overall in the 2013 NBA draft, Trey Burke has been, well, underwhelming to say the least. The Jazz point guard is shooting 37.7 percent from the field and 32.6 percent from 3 over his career while regressing in both those categories (37.3, 31.8) in his second season. His performance has validated some concerns I had about him before entering his league; namely an inability to pass up a questionable shot for himself in order to make simple plays for his teammates.
Burke's struggles have forced the Jazz to move the former lottery pick to the bench in favor of a 19-year-old rookie. So far, the early returns have been promising. Burke is shooting 40.9 percent from the field and 37.0 percent from 3 -- numbers that aren't great but a marked improvement -- during his first three games leading the second unit, a stretch in which Utah has posted a 2-1 record.
During his time as a starter, Burke has looked burdened by the non-scoring duties that come with running an NBA team. While certainly young and able to grasp such concepts with more time, some players just aren't wired to handle those responsibilities. Off the bench, Burke is free to do what he seems naturally inclined to do: score.
Excelling in this role -- the Lou Williams, volume-shooting, bench scorer -- may be Burke's best (and possibly only) avenue to sticking in the league.
Denver Disdain?
The Timofey Mozgov trade has done what the rest of the Eastern Conference feared -- it's gotten the Cavs back on par with their preseason expectations. While adding J.R. Smith and Iman Shumpert has helped, along with the return of that LeBron guy, Mozgov filling the Cavs massive frontcourt hole has been a game-changer. Cleveland is 7-3 since Mozgov joined the team and 7-1 since pairing him with a healthy James. Mozgov not only has the second highest net rating of all Cavaliers, but since his arrival in early January, he's posted the second best defensive rating -- trailing only James -- on the team.
Now the price for Mozgov was rather steep -- two (likely) first round picks -- but when put in context with the boost in performance it's given Cleveland, it seems like a small price to pay. Even without Smith and Shumpert, the lack of a reliable big man outside of Tristan Thompson and Kevin Love, particularly one that can rebound and protect the rim, would have probably torpedoed any realistic hopes of a title for the Cavs, at least for this season. There's a good chance that if Cleveland reaches the Finals this year, we'll look back at the Mozgov trade as a big reason why. And if that's the case, don't expect fans of some of the other Eastern Conference contenders to be too happy with Denver.