Well, this more or less sums things up: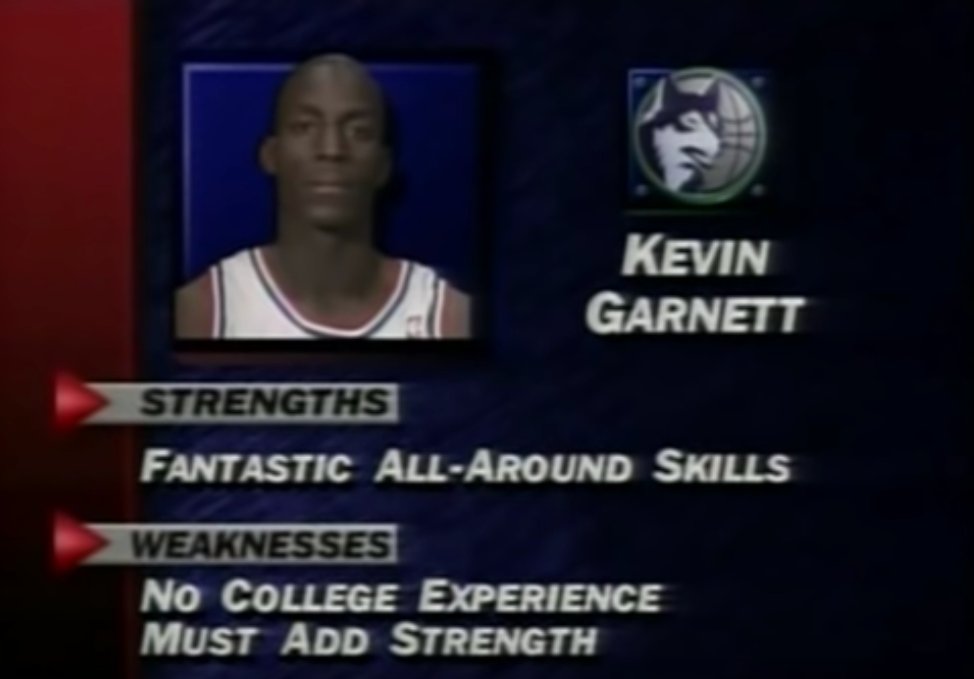 Much was said and written about Kevin Garnett after he decided to become the first player in 20 years to jump from high school straight into the NBA, but TNT's draft day graphics department condensed all the actionable info into three bullet points. There were pro scouts in the stands throughout his senior year at the Farragut Academy and the hype peaked in the spring of 1995, when he held a workout at the University of Illinois-Chicago in front of 13 lottery teams and a few reps from franchises that weren't even invited. The league that was expecting to welcome him in a year or two suddenly realized that he already belonged in their ranks.
"He's a genetic freak," then-Pistons coach Doug Collins said.
Rick Pitino on the TNT broadcast: "He's as good as a high school basketball player as I've seen in the last 10 years, physically."
Jack McCallum described him in a Sports Illustrated cover story as a cross between Reggie Miller and Alonzo Mourning.
Even at age 19, Kevin Garnett was not a project. His abilities weren't abstract or theoretical. Pretty much everything he showed in his MVP season in 2004 and his deep playoff runs with the Celtics in the late aughts was there in some form in 1995. He could block shots, handle the ball, pass extremely well for a seven-footer, and had a reliable midrange jumper. After his UIC workout, Flip Saunders said that both he and Kevin McHale were convinced there was "no risk" in drafting Garnett in the top five. He had too much talent to fail.
His shortcomings as a prospect, aside from his spindly frame, were intangible. That NO COLLEGE EXPERIENCE line in the graphic above is doing a lot of work. Garnett insisted in interviews that he had put serious thought into going to college and decided against it, but he had spent the spring of '95 trying and failing to get a high enough ACT or SAT score to qualify for a Division I scholarship. When it became clear he was going to become a lottery pick, he gave up on that pursuit. Though it was a perfectly practical decision—why play for free at North Carolina when you can make good money in the pros?—it was also understood by the (then-quite large) paternalist wing of the sporting press as arrogant and misguided. Who does this kid think he is? sentiment abounded. What kind of advice is he getting? From a condescending and impressively incorrect Michael Wilbon column: "[Garnett's decision], unfortunately, is what passes for prioritizing in urban America nowadays… he isn't physically ready to play under the basket in the Big Ten, much less against Hakeem Olajuwon and David Robinson."
Obviously if Garnett had curbed his ambition and spent a couple years proving himself against Duke and Villanova, NBA teams would have felt more comfortable with him, but that's an available scouting data thing. Every executive would prefer to see a prospect play as many games as possible against quasi-professional competition before they spend a high draft pick on him. What NO COLLEGE EXPERIENCE stands in for, more than a literal lack of college experience, was an assertion that Garnett somehow wasn't playing by the rules. For two decades, the template for the best high school players in the country was that they join a big program and mature for a while. This maturation process primarily involved getting chewed out by Jim Calhoun on national TV and pulling a C-plus in a philosophy course you showed up for only once in a while. You know, rites of passage.
Garnett skipped that noise partially out of necessity—he did end up achieving a passing SAT score, but the result arrived after he had already declared for the draft—but also perhaps because he realized that college ball was just an extra, intermediate step toward his ultimate goal. While none of his teachers or coaches at Farragut thought he was dumb, they admitted he was a nervous test-taker and wasn't particularly interested in school. So, screw it. Why not just focus on basketball? Convention was the only thing holding him back, and when you're as gifted as young K.G. was, that's not much of an impediment.
It took him all of a season and a half to make his first All-Star team; he qualified for 14 more after that. Along with Kobe Bryant, Garnett is credited with inspiring a generation's worth of preps-to-pros triumphs and flameouts. A whole sky-spanning spectrum of them—Darius Miles and J.R. Smith, Kwame Brown and Amar'e Stoudemire, Sebstian Telfair and LeBron James—entered the league before the NBA instituted its lamented one-and-done law in 2005. Some high school phenoms thrived, some sucked, some bloomed late. Some went broke shortly after retirement. This is not a profound thing; the same is true of guys who cut their teeth in the Big East and the ACC, but they're less heavily scrutinized cultural objects. For some reason, we think the difference between a stunted space-case and a fully formed adult is having received a handful of lectures from Coach K.
Over the past few years, there's been a debate that's now nearly settled about whether high school players should once again be allowed to join the NBA without passing through the college ranks. It seems likely that the NBA will soon change its eligibility rules and Kevin Garnett's route will reopen for the basketball world's eager and exceptional teenagers. Garnett made the transition look easy because he was just that good, and many that followed him struggled or even failed completely. But he proved a point that we're arriving at again some 25 years later. He wanted to play at the highest level and a large number of NBA executives thought he was capable of it. So why wouldn't he go ahead and give it a try? College is not the only place you can learn, after all. That experience isn't necessary for everyone.
More from Colin McGowan's Suspended Indefinitely series:
Damon Stoudamire Submits His Sample
Jermaine O'Neal Spins Baseline, Into The Abyss
Antonio McDyess Comes Down Hard
Allan Houston Punches The Clock