From between purposes, and the couch, soul itching quietly through the night, unable to live with yourself, thinking fragmented, not sleeping but not really doing anything either, you wonder alone gazing into the windows reflecting dim yellow kitchen light: what does a Frank Kaminsky highlight look like? You've got a vague idea. He can shoot, right? Like, he's at least got Andrea Bargnani range? There's a phone on the end table near your head. (Career three-point percentages: Bargs [35.4] vs. Kaminsky [34.7].) You remember there was a game against Indiana this past year, when Frank went off, to the extent that he ever does, and discover that that was the last game of the season. He put up 24 points on 10-for-17 shooting versus a checked out Pacers team that started Glenn Robinson III and Trevor Booker. Kemba Walker played 25 minutes.
Deeper into your research, you discern that if Kaminsky has a signature move, it's a drive-and-spin maneuver near the free throw line. He prefers to start left and finish right, but he can do it in either direction. It's effective because he's clearly practiced it a lot and his footwork is sound, but probably also because his opponents aren't ready for it. You kind of expect Frank Kaminsky to lumber on in whatever direction he's going forever, and then he reminds you that, right, he's in the NBA because he can move that half-ogre frame with something like grace, turn and balance himself and lay the ball delicately against the square. This is miraculous in a way it isn't when, say, Karl-Anthony Towns does it. Towns moves like being seven feet tall is the most normal thing in the world. Kaminsky moves like he's turning out of a black ice skid, like there's a drunk marionettist in charge of his limbs, just barely keeping it together. Watching him attempt anything complicated is stressful.
And now you're studying Kaminsky's career-high scoring game, 27 points in a February 2017 tilt against the Raptors—cosplaying as the Toronto Huskies that night—in which Frank breaks out a couple of those spin moves, get some easy buckets at the rim from Kemba, and drains three triples. He's not a man possessed so much as comfortably within himself. When he catches the ball he knows what he's doing with it, even at one point breaking out what Hornets play-by-play bro Eric Collins generously describes as a "Gervin-esque finger roll."
You think about moments like that—not spectacular, but on the happy side of ordinary. Restless on a hot summer evening, you took some pictures by the lake with an old OM-2 that you barely know how to work. Nearly everything ended up overexposed, but a single decent shot happened by accident: lining up the high-rises to the north that jut out over the water and the foregrounded beach in your viewfinder, a girl, maybe 12 years old, ran in front of you, chasing down a wayward rubber ball she and her siblings or cousins had been playing soccer with, out of frame to the left. She was dribbling it back toward them, looking a little bit sad, as you clicked the shutter. Her presence adds some personality to an otherwise static, unremarkable picture of the city. Snapping the lens cap back into place, you thought, if I haven't messed that one up completely, at least I didn't leave the house for no reason.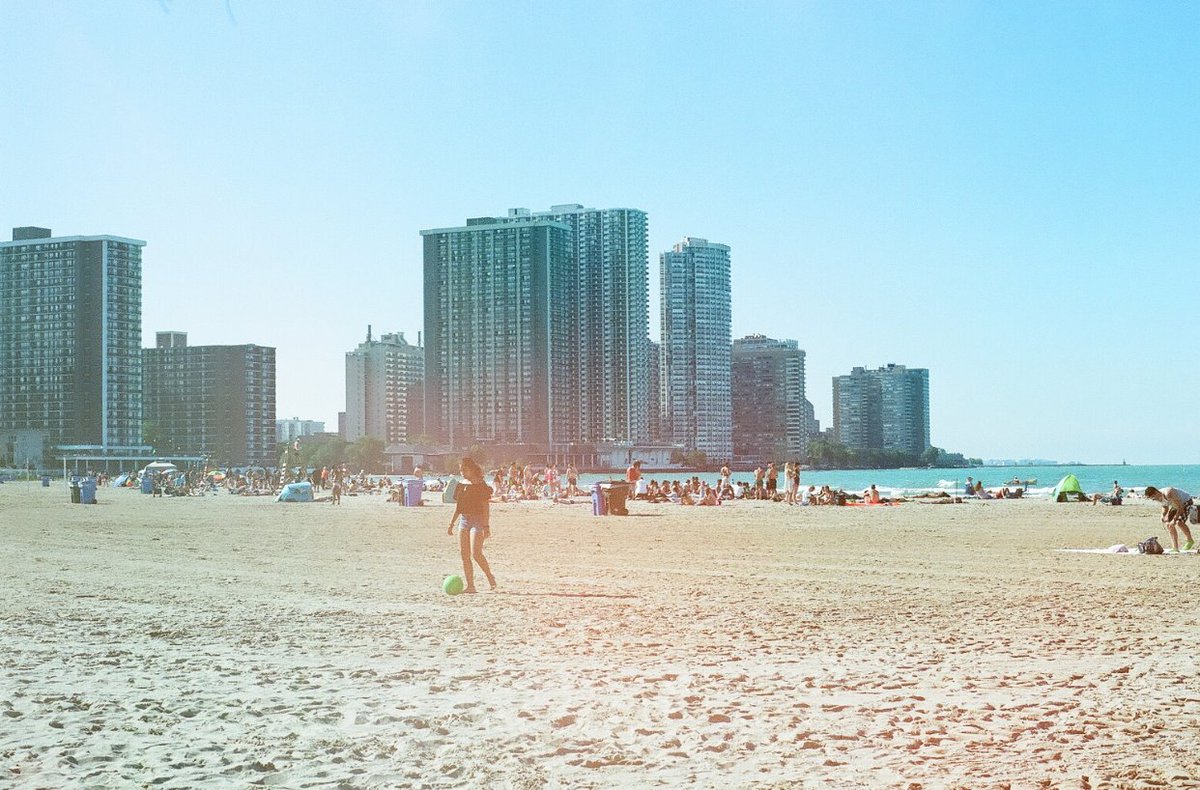 Perhaps the most famous thing about Frank Kaminsky is that Michael Jordan allegedly turned down an offer of four first-round picks from Danny Ainge in order to draft him in 2015. (Ainge didn't even want Kaminsky; he was after Justise Winslow.) Unsurprisingly, Frank hasn't lived up to that valuation. He's been more or less what reasonable folks expected: a big man who spaces the floor and emits a powerful midwesterness that doesn't show up in the box score. (If he and Cody Zeller were a star duo like Klay and Steph, I like to think we'd call them the Children of the Corn.) Kaminsky has a lot of deficiencies. He's a terrible rebounder, doesn't finish well at the rim, and drifts out of games when he misses his first few shots. He's also got a podcast on the Barstool network. Yuck.
As fans, we focus the bulk of our attention on stars because they're (usually) the most interesting players to watch, but beyond that, they're also easy to talk about. Everybody knows who LeBron James is; everybody's seen him play. He's exceedingly legible and so an ideal figure onto which we can project basically whatever we want. You can talk about LeBron vs. Jordan, or you can use him as a pawn in dime store theology. You can talk about him in relation to human achievement, failure, greatness, politics—all the Big Stuff—in a way you can't with Frank Kaminsky types, who have limited conversational utility. They're esoteric and small and, in relation to their best colleagues, not all that good at the thing they're supposedly good at.
The Kaminskys of the world serve a different purpose, if it can be called that. They linger in the League Pass-addled mind and emerge prominent at odd hours, maybe leading you down a pointless k-hole you need to disappear into at 3:13 in the morning, anxious about nothing in particular, replacing jittery torpor with appreciation for a medium-effective spin move, craft not perfected but well-honed. It's a comforting if almost definitely untrue notion, that everything has its application, that you're not wasting your time thinking about Frank Kaminsky, your phone now glowing against the dim yellow kitchen light. Of course you are, but then that's sort of the point.
More 2018 Futures: Kevin Love, Manu Ginobili, Marcus Smart, John Wall, Devin Booker, Paul George, Blake Griffin, Trae Young, Kenneth Faried, Joakim Noah, Mike Conley, Ben McLemore, Kawhi Leonard, Aaron Gordon, Danilo Gallinari, Wayne Ellington, Frank Kaminsky, Donovan Mitchell, Chris Paul, Jrue Holiday, Paul Millsap, Kris Dunn, Jimmy Butler, Joel Embiid, Victor Oladipo, Kevin Durant, C.J. McCollum, LeBron James, Giannis Antetokounmpo, Luka Doncic